Trade Render and Base Coats from Chad Plaster & Facades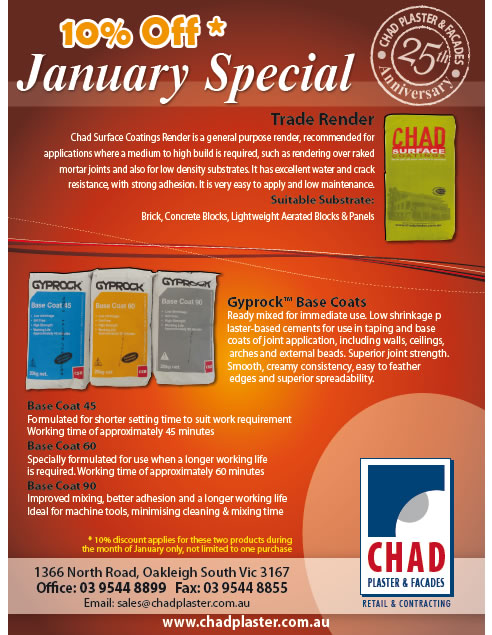 Trade Render
Chad Surface Coatings Render is a general purpose render, recommended for applications where a medium to high build is required, such as rendering over raked mortar joints and also for low density substrates. It has excellent water and crack resistance, with strong adhesion. It is very easy to apply and low maintenance.
Suitable Substrate:
Brick, Concrete Blocks, Lightweight Aerated Blocks & Panels.
Gyprock™ Base Coats
Ready mixed for immediate use. Low shrinkage p laster-based cements for use in taping and base coats of joint application, including walls, ceilings, arches and external beads. Superior joint strength. Smooth, creamy consistency, easy to feather edges and superior spreadability.
Base Coat 45
Formulated for shorter setting time to suit work requirement Working time of approximately 45 minutes
Base Coat 60
Specially formulated for use when a longer working life is required. Working time of approximately 60 minutes
Base Coat 90
Improved mixing, better adhesion and a longer working life Ideal for machine tools, minimising cleaning & mixing time
03 9544 8899
Warehouse: 1366 North Rd, Oakleigh South, Vic, 3167, Showroom: Crn North & Warrigal Rds, Oakleigh, Vic, 3166