Solar Powered Roof Space Ventilation from Solatube Australia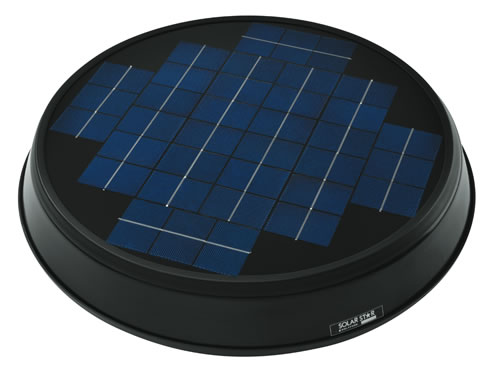 New Solar Star Roof Fan to capture the market!
With summer approaching and temperatures rising, ventilation experts Solatube are suggesting their most technically advanced and environmentally friendly product, 'Solar Star'. Solar Star is the leader in solar powered roof space ventilation, and will keep your home cool throughout summer.
Heat and moisture can cause irreparable damage to roof cavities and attics, as high humidity levels can lead to structural damage through mould, fungal decay and saturating insulation. Furthermore, heat build-up in a roof space as high as 65 degrees celsius is transferred into living areas, dramatically increasing both temperature and energy bills.
Solar Star ventilation fans provide a cost-effective solution for these problems, eliminating heat and moisture in an environmentally friendly manner. The installation of a Solar Star ventilation fan will help you effectively decrease your household's greenhouse gas emissions by reducing your overall energy consumption, an excellent green result.
Solar Star offer two ventilation fan models, RM 1200 and the new RM 1600. RM 1200 is the classic roof mount model suitable for a wide range of roof space ventilation needs. It is equal to 10+ wind vents. RM 1200 is the ideal solution for homes with a single, smaller roof space zone.
The new release Solar Star RM 1600 is a highly efficient ventilation solution, 50% more powerful than the RM 1200. The robust roof system is designed to accommodate more expansive roof spaces, with power equal to 15+ wind vents. The Solar Star product range with the new RM 1600 can now better address all ventilation needs.
Solatube Australia General Manager Mark Peall said, "In the summer months, the temperature in the roof space can reach 100 degrees celsius or more, but by circulating the air and ventilating the roof space, the Solar Star reduces heat build up which ultimately reduces air conditioning costs. It starts working as soon as the sun comes up, and can be fitted with a Thermal Switch, which automatically activates temperature settings for delivering the best results in all climate conditions."
Solar Star provides the most efficient ventilation solution due to its easy installation and the fact that it can be placed wherever improved air circulation and ventilation is most needed. It protects critical roof structures, reducing heat and humidity build-up, and is leak proof. Solar Star ventilation fans are available to suit most roof types including corrugated, metal and tile and can be installed in less than 30 minutes without needing an electrician.
Solar Star ventilation fans are highly durable and contain an impact resistant solar panel that provides protection from hail, wind and flying objects.
Telephone 13 16 19
www.solatube.com.au