Comfortline Overhead Radiant Heating Panels from Devex Systems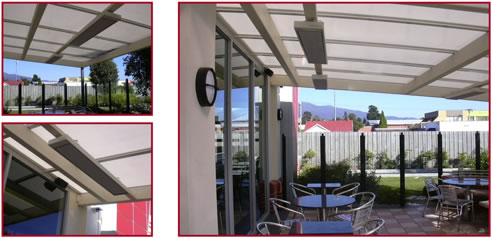 Comfortline heating panels are the ideal heating solution for hard-to-heat areas in both indoor and outdoor applications. This modern form of electric heating emits a gentle, lasting radiant heat that offers up to 10% more usable energy than some other similar panels on the market.
The radiant surface is designed in sections of naturally anodised aluminium, set in a galvanised steel case for strength. The panels are plastic powder-coated in white, giving them a sleek and attractive modern appeal.
Comfortline panels come with one, two or three heating elements. The higher output models with multiple elements can run independent of each other giving greater control over the radiant heat output. A single high capacity Comfortline panel costs about 60c/hour to run. A typical mushroom heater on bottled gas will cost five times that - up to $3.00/hour.
Suitable applications are:
Residential, commercial and industrial,
Indoor and Outdoor environments
Patios
Community halls
Garages
Offices
Homes
School
Shops
Colleges
Churches
Nursing homes
Hostels, hotels and motels
Community halls
Factories
warehouses
workshops
Cafes and restaurants
Features/Benefits:
Energy saving and economical
High quality, European-made
Gentle, lasting heat
Easy to install
Absolutely silent
Odorless and non-polluting
Ceiling mounted freeing up valuable floor space