Indoor & Outdoor Saunas from Finnleo Saunas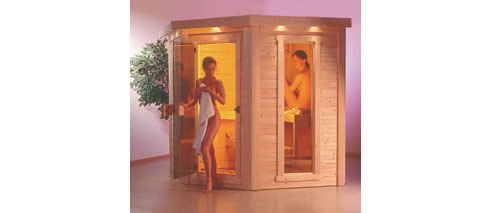 A sauna can be built in almost any location either indoors or outdoors.
The only difference to an outdoor sauna is that it will require a weatherproof roof over the sauna, and the exterior cladding of the sauna will also need to be sealed or painted suitable to all weather conditions.
Saunas do not come in set sizes. Each project is customised to your exact requirements for the space available, your budget or specific needs.
Finnleo can provide you with 3 types of sauna packages:
Custom Built Sauna
These are saunas which are custom built on site into a dedicated sauna space. The sauna will be a permanent fixture. This is generally the most common and cost effective way to have a sauna installed.
Pre-Fabricated / Modular Sauna
A free standing sauna which is built in modular form at our factory. The various components are then delivered and assembled in your desired location. These saunas can be relocated at a later stage if required.
Note: Pre-Fabricated / Modular saunas are best suited to be installed in an open area such as a garage, gymnasium or pool complex. They are also suitable for people who rent and do not wish to leave the sauna behind when moving.
D.I.Y. Sauna Kit
For the person wanting to build their own sauna, Finnleo can provide you with the raw materials and building process to complete your own sauna project. Most DIY sauna kits include:
Lining boards
Bench planks
Sauna Door
Vents
Internal Trims
Sauna Heater
Light fitting
Accessories
Building procedure Guide
Telephone assistance