Custom Retail Metal Elements from Astor Metal Finishes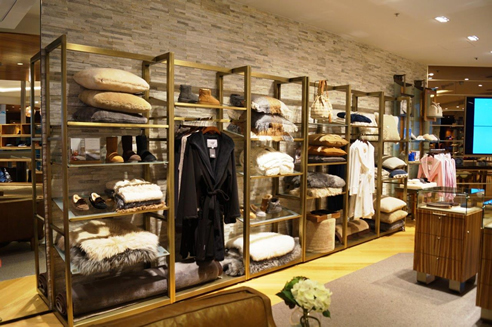 UGG Australia was created by an Aussie in the US and is the quintessential representation of the laid back relaxed style. The footwear is internationally recognisable and as such its stores need to reflect this.
The King Street UGG Australia store was the second Astor Metal Finishes contributed to, with the other being in the QVB. Astor added a custom touch to shelving, frames, surrounds and signage. We also matched a sample that was supplied from overseas.
Designer: Coma Design
Finish: ALHENA custom (semi gloss)
Antique Brass is a combination of brass & black nickel electroplating. The result is brass under a black brushline. Depending on the profile of components being finished; this finish results with dark in recesses and brass to highlights. To prevent tarnishing, the parts are then finished with a clear 2 pac baked through oven.
Application: Shelving, frames, surrounds, signage - mild steel, aluminium & stainless base metals