Minimalist Outdoor Awning from Blinds by Peter Meyer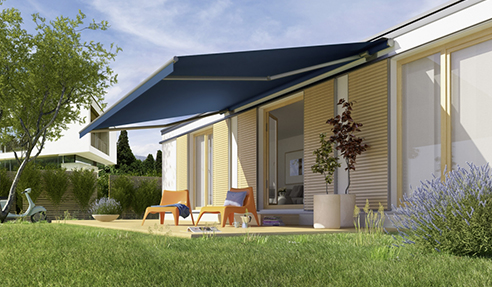 When it comes to selecting outdoor awnings for minimalist admirers, Blinds by Peter Meyer is unrivalled. Livona's simple yet elegant decor blends with house comfort and functionality. A truly minimalist outdoor style that has become a trend in popular modern architecture.
For more than three decades, Blinds by Peter Meyer has been the leading provider of minimalist outdoor awnings across Australia. Their expertise in the design and production of window furnishings has played an integral role in today's design industry, delivering international quality products for both domestic and commercial applications.
Aiming to bring the latest architectural style and trend, Blinds by Peter Meyer established a partnership with the renowned German Awnings and retractable roof manufacturer, Weinor, and has become the most trusted distributor of the Livona Open Cassette Awning, the finest minimalist outdoor awning in the country.
Weinor-made, Livona awnings are made with exceptional solution dyed polyester or acrylic fabrics, providing quality colour finishes with a high UV resistance. Through the Teflon fabric coating and the latest nanotechnology, the Weinor fabrics make this outdoor awning resistant to oil, dirt, and water, maintaining its visual appearance for a long time.
This minimalist outdoor awning has an unrivalled design. Typically, it has a slim front profile with an invisible support tube, providing a floating look for up to 6-metres in width with only two brackets, however, the awnings can be made up to a massive 7m wide x 4m projection. To provide optimum outdoor warmth and light, Livona LED light rings are also available. Its white LED lights provide atmospheric lighting that is warm and gentle.
Livona provides a very large shade area; it has a maximum width of 7m and a maximum projection of 4m. Depending on the specified requirement, Blinds by Peter Meyer may provide an outdoor awning with or without a roof in different kinds. The Livona can also be made with a motorised or crank operated roller blind in the front profile for cutting the low winter sun or glare off the water. Another key feature of the Livona is the "over-square" option where an awning can be made as narrow as 2m wide and still achieve a 4m projection. This is achieved by having one arm on top of the other rather than side by side.
With a client-centric approach in business, Blinds by Peter Meyer incorporates the finest cutting-edge technology - Somfy Motorisation. Its range of switches and controllers help in reducing energy consumption through sensors and timings. Its sophisticated and discreet movement increases Livona's life and quality value with just a simple touch of a button.
For more information about Livona Minimalist Outdoor Awning, contact Blinds by Peter Meyer or visit www.petermeyerblinds.com.au today.