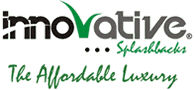 Company Profile
Innovative Splashbacks are a new source of design inspiration for those looking for high quality at an affordable price.

Innovative Splashbacks specialise in supplying the highest quality acrylic splashbacks for kitchens, bathroom and laundries as well as retail and commercial fit outs - nationwide. They are also perfect as decorative wall panels.

Our acrylic splashbacks are re-shaping the way architects create and design and have quickly become the preferred "glass alternative" choice of splashbacks for builders and designers in both residential and commercial fit outs.

They are versatile, colourful and durable and are made using the highest quality acrylic/polymer on the market. Innovative Splashbacks look exactly like glass whilst being half the weight and 25 times stronger.
Being more cost effective and half the weight of glass is just the start of the benefits Innovative Splashbacks have to offer.

With exceptional ease of installation builders have realised the savings in reduced labour time when compared with glass, tiles and even other acrylic/polymer splashbacks on the market. Custom cut and our ability to custom colour to your project requirements and delivered nationwide make our splashbacks suitable for a multitude of applications - from kitchen and bathrooms to entire hotel foyers.

It's little wonder they have quickly become the "glass alternative" and high gloss panel of choice for builders, architects and designers for both residential and commercial projects.
Innovative Splashbacks
0418 548 743
240 Latrobe Terrace, Geelong West, VIC, 3218
* If you would like to update the text on your profile page, please contact Spec-Net.