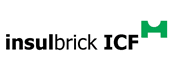 Company Profile
The creators of Insulbrick ICFs have a long and vast history with construction using Insulated Concrete Forms. From this history comes experience. From the initial documentation stage through to project completion our people will support you with every aspect of your project that relates to ICF. Many Builders and Owner Builders install the ICF walls themselves. We offer a huge range of support packages and can even tailer a support package particular to each individual. We also offer a full professional installation service. You can choose to have your walls professionally installed while you concentrate on other aspects of your project.

Our products are designed taking into account all considerations from performance through to construction. We are passionate about ICF construction and eager to assist you with your project.

Insulbrick ICF
1300 655 177
106 Bendigo Street, Prahran, VIC, 3181
* If you would like to update the text on your profile page, please contact Spec-Net.