Effective External Venetian Blinds - the ev80 from Evaya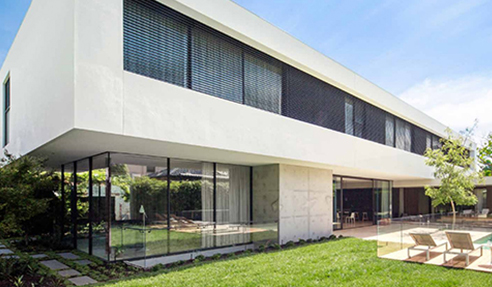 Choosing the right external Venetian blind can add depth and impact to any setting, and allows for optimum interior comfort to be achieved without the need for excessive heating and cooling. Keeping up with the continuous evolution of building design, evaya developed an external Venetian blind that is second to none when it comes to design, functionality, and sustainability - the ev80.
The ev80 is manufactured in compliance with global efforts in sustainable development. Made with aluminium slats, the ev80 provides high solar radiation reflection plus low absorption and transmission values, effectively reducing energy consumption, greenhouse gas, and carbon dioxide emissions.
Streamlined and functional, this external Venetian blind works perfectly in both summer and winter. In summer, the blade angles of ev80 can be easily adjusted to block harmful solar glare, control heat gain, and allow natural light to enter. In winter, heat and light can be directed into a building to increase passive heat gain and minimise solar glare.
Visit www.evaya.com.au to learn more about the ev80 external Venetian blinds.