Triple Track Commercial Bifold Door System from Trellis Door Co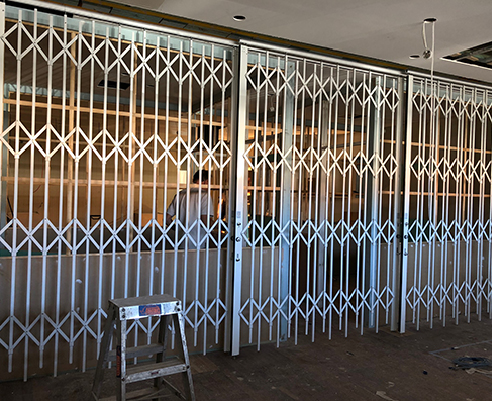 The Australian Trellis Door Company (ATDC) has pioneered a triple track commercial bifold door system which achieves major storage space advantages for its customers.
At a recent commercial fit out project for Natalie Marie Jewellery at Avalon in Sydney, Annandale based interior architect X+O specified an S07-2 side-by-side parallel top track arrangement for ATDC's commercial bifold door at the front of the retail store. The design intent was to minimize the side stacking depth of the door in order to provide maximum retail frontage for the client.
Once on site, the project manager LJW Building was faced with even further door storage space limitations and required a maximum stack depth of 8% of the shopfront span. To achieve this ATDC installed its bifold door in a triple top track configuration. The door stack achieved was just 450mm over a 5700mm shopfront opening span. An incredible achievement. And so vital for retailers and other commercial businesses trying to squeeze every possible square metre of trading space with their expensive property rentals.
The triple track system offers a seamless lock up with a series of intermittent up/down locking mechanisms and without the need for any floor track nor any removable mullions. The attached image shows clearly the set-up of this successful recent installation.
ATDC's commercial bifold doors are now sold in Sydney, Melbourne, Perth, Brisbane, Canberra and Adelaide as well as in all regional centres across the country including Darwin, Townsville, Hobart, Geelong, Newcastle, Sunshine and Gold Coast regions. They are also being exported throughout South East Asia, The Asia Pacific, The Pacific Islands and the UAE.
For further information contact ATDC toll-free from anywhere in Australia or visit ATDC's website at www.trellisdoors.com.au.
ATDC also fabricates a full range of folding closure commercial bifold doors which can be viewed at www.trellisdoors.com.au.