Linear In-Ground Luminaires for Elmshorn by WE-EF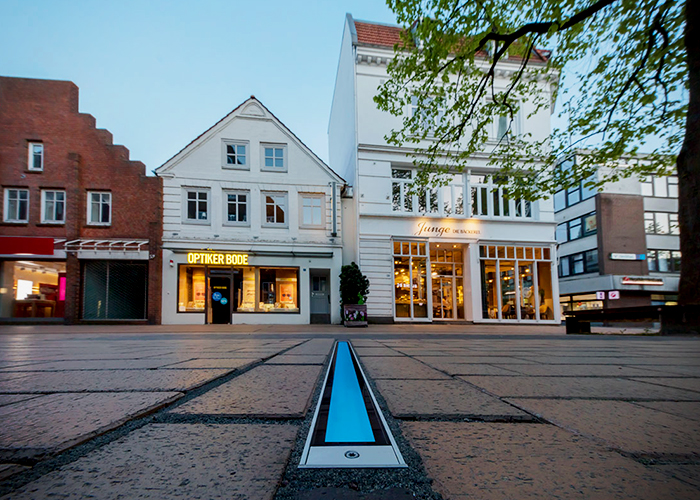 New lines of light for the lanes of Elmshorn
Green and blue lines of light on the ground facilitate orientation in the centre of Elmshorn in Schleswig-Holstein, Germany and strengthen the identity of the town as a striking visual area. The lanes from the central Königsstraβe towards the town hall with the park in front of it are illuminated in green, while the paths down to the Krückau River are highlighted with blue light.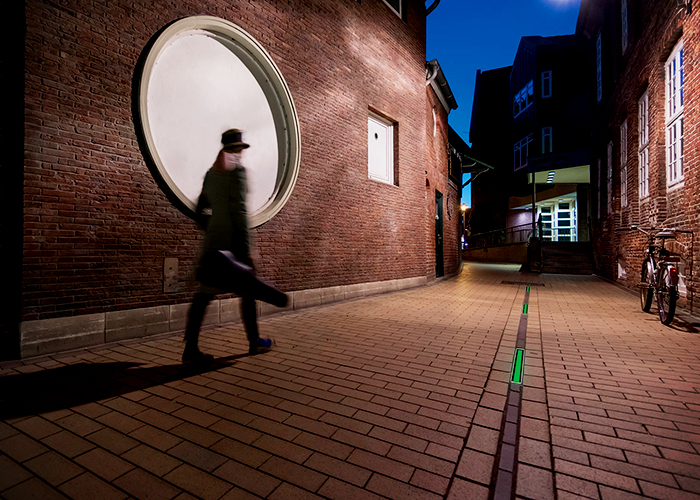 The idea of adding striking lighting to accent the pedestrian zone and adjacent lanes - called "Gänge" (corridors) in the north - with inground luminaires dates back to 2003. After 15 years in operation, the prior system was showing signs of ageing, and the town decided to replace it. The project was realised by the Elmshorn municipal utilities. They chose WE-EF's ETV130 inground luminaires not only to replace the lighting, but also to upgrade it both technically and in terms of design.
The luminaires are fitted with RGBW LEDs and have a DMX interface. This enables them not only to produce green and blue light, but also white light of various colour temperatures from warm white to cold white and an almost unlimited range of colours. There is also a choice of either colour changing or dynamic progression lighting modes. In everyday operation, Elmshorn uses blue and green colours. For town festivals magenta, the town's signature colour is used, while a warm glow illuminates the town for the Advent season.
A total of five lanes feature lines of light shining over a total length of around 75 metres, but in the form of a row of individual luminaires rather than as a continuous strip of light. In the course of the conversion work, the electrical installations were also replaced, and power cables and a control line were laid. The lines of light are now fed by the same mains supply as the street and area luminaires, and they switch on together every evening.
In terms of lighting technology, the ETV130 in the lanes of Elmshorn effortlessly meet all requirements. They produce a glare-free, linear symmetric medium beam distribution. The nominal luminous flux of 4,320 lumens generated by the luminaires, with a connected load of 33 watts, is dimmed to 30% in normal operation. Elmshorn therefore benefits not only from the sustainable investment in high-quality luminaires, but also from considerable energy savings - the previous lighting solution had a connected load of 48 watts.