Moveable Acoustic Operable Walls from Bildspec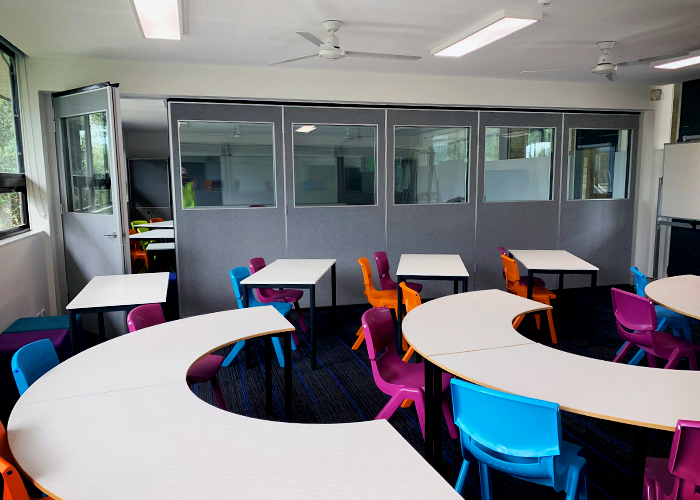 What Bildspec Operable Walls can Offer Facility Managers
At Bildspec, we recognise that the role of the facilities manager includes many different and complex functions; From property & space strategy, design, planning, safety, management & maintenance, to supplier & product selection, contract management, and more!
When it comes to your operable wall requirements, we aim to make that specific task of managing the third-party supplier just that little bit easier! The sourcing of moveable acoustic operable walls can often fall to the facilities manager, who then has the added responsibility of providing occupants with an adequately controlled acoustic space which complies with health & safety regulations and adequately meets the tenants' expectations of efficient space management.
Since 1969, Bildspec has been the leader in building and supplying custom-made operable walls throughout Australia. We manufacture, install, and service acoustic operable walls primarily for commercial, office, and education-based applications. Bildspec have a reputation for providing industry-leading products with fast lead times and at great value to customers. This value encompasses price, quality, speed, and high customer service.
Operable walls are especially popular in office environments and educational facilities, both of which have significant involvement with facilities managers. At Bildspec we work collaboratively with our facilities management clients to ensure that the premises they manage embrace effective office layouts, noise & light management, and high aesthetic qualities.
Over our 50+ years in business, Bildspec have supplied operable walls (often on behalf of a facilities manager) into many high-quality office fit-outs including the likes of BHP, Telstra, KPMG, Nike, the Reserve Bank of Australia, Westpac, Qantas, and more. In turn, we have supplied our movable walls to hundreds of schools, universities,and TAFE's throughout the country. Bildspec are currently working on an NSW-based project to supply operable walls on behalf of Facilities Managers to schools such as Pennant Hills HS, Ermington PS, Hornsby Heights PS, Lane Cove West PS, Denistone East PS, and Cherrybrook PS.
What is an acoustic operable wall?
Operable walls allow a limited transfer of sound from the adjacent space into the smaller individual space. Bildspec's operable walls allow commercial tenants greater flexibility with their office spaces, enabling them to create meeting rooms, board rooms, and breakout rooms, etc. These operable walls offer each application varying acoustic properties which are also highly attractive.
Likewise, our operable walls have an important part to play in providing an improved acoustic environment within educational/learning facilities. This is achieved by greatly reducing external noise from passing into each class room. One space can be turned into multiple, smaller spaces, whether it is turning a large open plan area into a series of smaller class rooms, or sectioning off areas from others for rest, eat, or play.
Customers can choose between glass, or a combination of multiple solid materials including timber veneers, high pressure laminates, two-pack polyurethane, colour back glass, and fabric face finishes. The choice depends on the look, feel, and acoustic environment you are trying to create.
For more information on our products please click here or for any further information please contact our office by phone or email.