Sustainable Pool Feature Lighting by WE-EF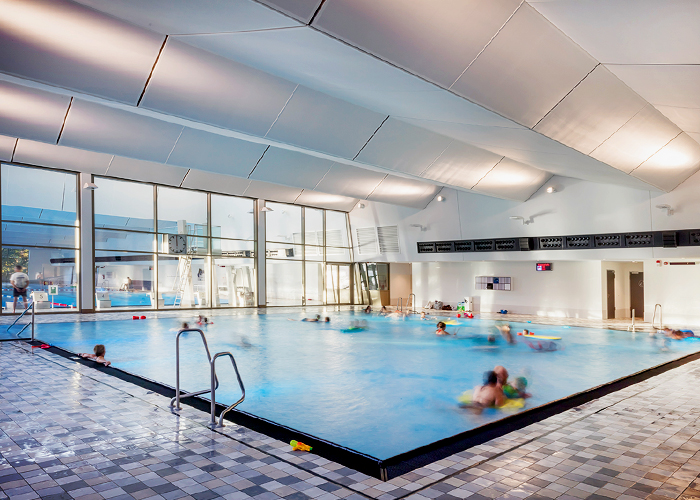 New family swimming pool in Hamburg-Ohlsdorf
Outdoor and indoor swimming pools have very specific lighting requirements. The new Hamburg-Ohlsdorf family swimming pool is an excellent example of a successful project, both aesthetically and technically. An attractive, sustainable, and durable building that is loved by guests has been created, featuring lighting technology from WE-EF.
The new family pool is designed as an all-weather sports pool with a dividable 50-metre competition pool, a teaching pool, and a little paddling and playing area. The long, glazed south side can be completely opened in fine weather and the newly-designed outdoor area becomes a sunbathing lawn. The prismatic, shimmering metallic structure has a simple and yet futuristic look. Inside, too, the atmosphere is clear, bright, and friendly - and this is further underlined by the lighting concept.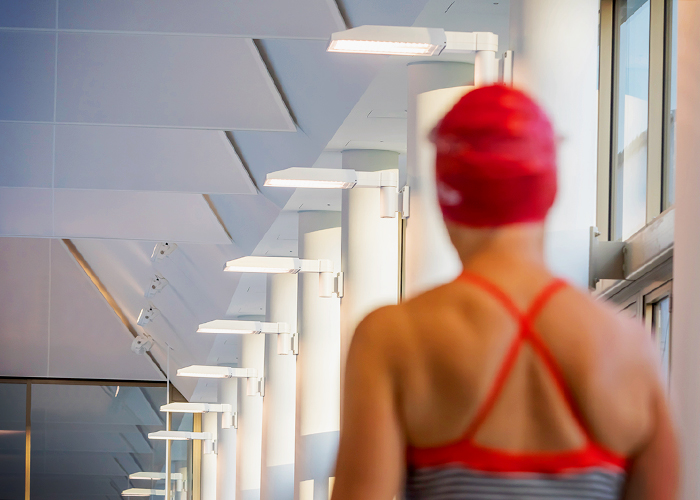 In indoor swimming pools, extreme air humidity and splash water create conditions that are otherwise only found outside. This is why outdoor luminaires are generally used to meet the requirements for ingress protection, safety, and corrosion resistance. The technical building services planners from Eneratio in Hamburg, who are experienced in swimming pool construction, opted for luminaires from WE-EF with the well-proven 5CE Superior Corrosion Protection technology. Thanks to an additional special protective coating, they also permanently withstand the chlorinated swimming pool air.
WE-EF PFL540 luminaires with asymmetric forward throw light distribution are mounted with wall brackets along the longitudinal sides of the hall. Compact WE-EF PIA240 floodlights, also with asymmetric forward throw light distribution, are mounted on the partition between the pools and contribute to homogenous illumination. The striking, minimalist design of the luminaires harmonises perfectly with the architect's design.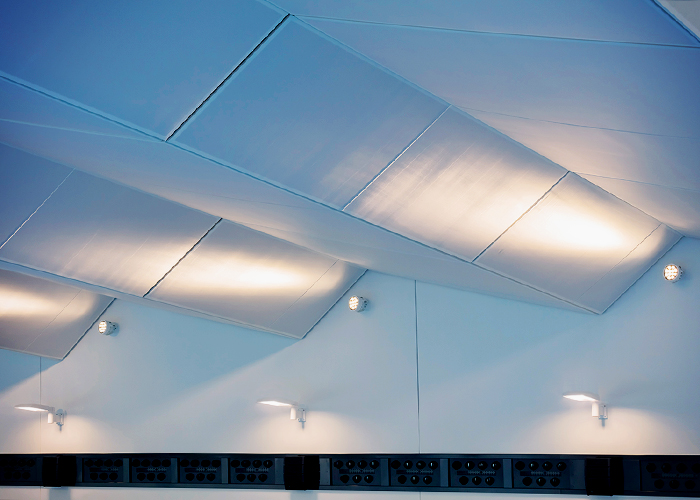 The ceiling construction, which is made of wooden trusses, is concealed behind a folded membrane made of light, textile acoustic elements. Each ceiling panel is illuminated with FLC230 projectors from both sides. Following a lighting trial on site, the designers opted for a combination of extremely narrow-beam LED optics and an additional linear spread lens to achieve the desired light grazing effect. The warm colour temperature of 3000 K throughout creates a pleasant atmosphere. The luminaires have DALI interfaces for control and connection to the building system, enabling appropriate lighting scenarios for different situations to be activated at the touch of a button. WE-EF was also able to integrate emergency lighting - to this end, the housings of some of the luminaires are equipped with monitoring modules.
Architect: Czerner Göttsch Architects, Hamburg
Technical building services planning: IB Drückhammer, Schwerin
Execution planning: Eneratio Electrical planning, Hamburg
Installation: Euromicron, Hamburg
Photos: Frieder Blickle for WE-EF