Sharp Cut-off (EES) Optic Lighting by WE-EF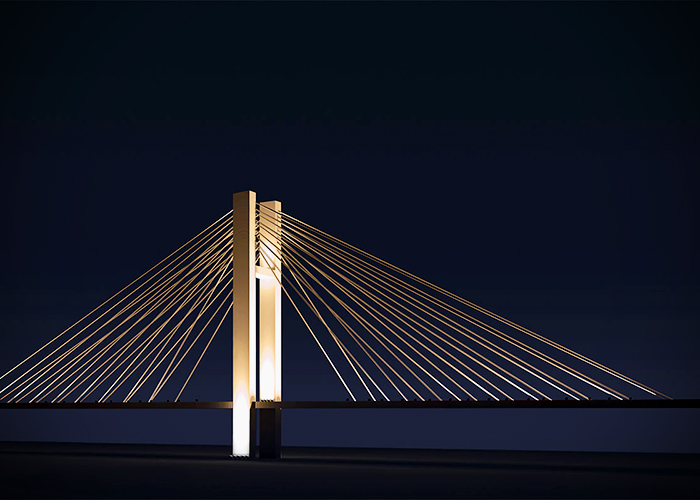 Very focused, perfectly mixed
WE-EF presents very narrow beam 'sharp cut-off' [EES] optics, also for colour mixing and tunable white versions of the FLC200 projector
As a pioneer of LED technology in exterior lighting, the development of LED lens systems is among the core competencies of the WE-EF brand. This technological lead is particularly evident when it comes to special requirements, such as very narrow beam optics for projectors with RGBW/RGBA colour mixing or tunable white technology; These luminaires can be used to create impressive effects, for example to accentuate and model architectural details.
Projectors are indispensable lighting tools for highlighting fine details of large structures such as cables of a suspension bridge or pilasters of an ancient building. Their very narrow beam distributions provide excellent accentuation of such details, also from afar. LED projectors with a fixed single colour temperature are ideal for lighting scenarios where distributions with beam angles of less than 5° are required - such as WE-EF FLC200 LED series projectors with the symmetric, very narrow beam, 'sharp cut-off' [EES] optics. Utilising such very narrow beam distributions with colour mixing or tunable white projectors presents engineers with a very special challenge - due to the extremely focused beam, special attention must be paid to the quality of colour mixing, as it is important to prevent flecks of colour, coloured edges, and shadows from appearing.
WE-EF has now succeeded in solving this problem, underlining the company's expertise in lighting technology. The FLC240-CC and FLC260-CC projectors with infinitely variable RGBW/RGBA colour mixing and the FLC240-TW and FLC260-TW projectors with tunable white are now also available with symmetric, very narrow beam, 'sharp cut-off' [EES] optics. To achieve this, lighting engineers from WE-EF not only modified the lenses, but also rebuilt the entire system, consisting of a diffuser, lenses, and LED modules in a very specific arrangement - balancing perfectly the requirements of colour mixing, beam angle and efficiency. The colour mixing quality achieved is in line with the WE-EF highest quaility standards. Accessories inside the housing, such as a linear spread lens or honeycomb louvre, allow for perfect adaptation to specific lighting situations.