Energy Efficient Thin Under Tile Floor Heating by Amuheat Floor Heating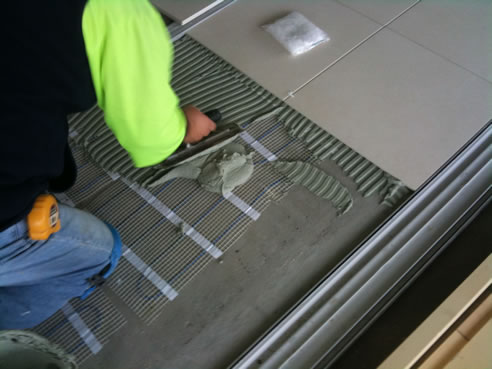 A new energy efficient floor heating system by Amuheat features a thin cable mat design making it particularly suited for in-tile glue applications, single room renovation projects where floor heights are critical or even for entire new builds where it might be too late to incorporate heating in the slab.
The 2.2mm heating cable's thin profile does not affect floor levels and sits embedded in the tile glue. The low wattage heating cable provides a quick release of heat under tile and because of it's close proximity to the room space above downward heat losses are minimised.
Manufactured using only the finest materials, the AS/NZS compliant heating cable is double insulated with Teflon & PVC sheaths making it Australia's toughest under tile heating cable without compromising on safety. The thin 2.2mm single conductor heating cable features a full earth braid which not only minimises EMF &, EMR's, but connected to a RCD circuit supply makes it safe from shock hazards.
Amuheat Thin Cable Mat is fully programmable via the stylish wall mount thermostat, offering an automated schedule to suit your lifestyle and routine, warming the floor only when it's needed and in the most energy efficient way.
Contact Amuheat for a complimentary design and quote for installation of Thin Cable Mat or for product selection for direct Trade or DIY supply.