Thin Floor Heating Under Tile & Stone Floors from Amuheat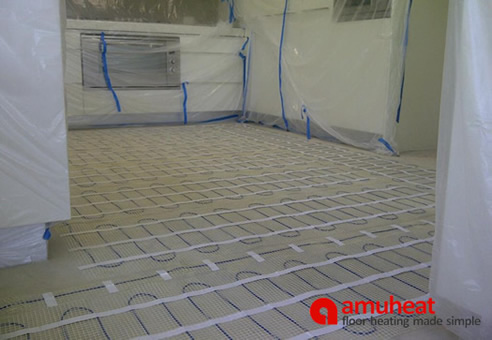 Installing radiant floor heating directly beneath tile floor finishes in bathrooms, kitchens and other living rooms, transforms these naturally cooler rooms and cold surfaces into warm and inviting spaces with the luxury of barefoot comfort. Fitting Thin Cable Mat electric floor heating directly beneath new tile and stone floors is amazingly simple and surprisingly affordable (ongoing running costs too).
Amuheat's Thin Cable Mat's low profile design has very little impact on floor heights making it perfect for renovations and new builds. The thin 2.2mm mesh backed cable system is easy to install directly under tile and stone floors by do-it-yourself homeowners, builders, electricians or floor heating professionals alike. The thin floor heating cable is evenly spaced in 500mm serpentine loops offering average heat outputs between 60-90Wsqm across a room, which is far less than most competitive systems that output between 130-200Wsqm. Despite its low wattage design parameter, Thin Cable Mat does not lack on performance as heat can be felt through most 10-20mm tile floors within 15-30 minutes. The benefits... low running costs and fast warm-up times.
Thin Cable Mat's open mesh design helps hold the heating cable in place during installation and can be "cut-turned-stuck" to the floor with the attached adhesive tape strips, making it easy to customise installation for any room layout to achieve full coverage as required. The mesh is embedded in the layer of tile glue used to lay the tile and stone to provide years of maintenance free radiant warmth. Amuheat offer a variety of controls, the most popular type allowing you to automate the heating times to suit individual room use patterns for energy efficient use. And, aside from the automated heating schedule, the floor heating can be manually controlled too.
Amuheat offer a no-obligation design and quote service with fast nationwide delivery including regional areas across Australia. Thin Cable Mat is supplied with a 10 year warranty. Trade kits are supplied complete with all materials required including heating system, programmable touch screen thermostat with sensor, remote floor sensor, element fault monitor, installation guide and free telephonic support. And for those looking for a professional installation service across New South Wales & Victoria, Amuheat also offer thin floor heating installation support.