Efficient Under Carpet Floor Heating Systems from Amuheat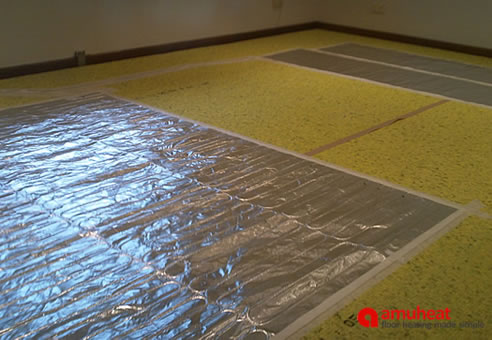 New Under Carpet Floor Heating Systems
for Residential & Commercial Buildings by Amuheat
Electric floor heating is still a popular choice as the primary heat source for existing homes being renovated and new home builds too. With Amuheat's new & improved range of floor heating systems for under carpet, comfort radiant warmth can be extended safely beyond rooms with tile and stone floors to select carpeted areas needing a practical and economical heating solution.
Laminate Panel 14 installs on top of the carpet underlay directly beneath most modern tufted and woven carpets with no impact to floor heights. And as it installs above the carpet underlay, Laminate Panel 14 can be retro-fitted to any room with existing carpet.
Operation of the carpet floor heating system is via a fully programmable, stylish wall mount thermostat which offers an automated schedule (or optional manual on/off control) to suit your lifestyle and routine, warming the floor within 10-15 minutes only when it's needed in the most energy efficient way.
Manufactured using only the finest materials, the AS/NZS compliant Teflon insulated alloy resistance heating element is sandwiched between layers of aluminium foil laminate with connection to mains earth for complete RCD protection. The highly durable aluminium laminate provides protection for the heating cable and helps to rapidly and evenly distribute heat across.
- Installs above the carpet underlay directly beneath the carpet
- Ideal for select room heating under new or existing carpet floors
- Multiple heating mats can be combined to supply required heat requirement
- Even distribution of heat across the carpet floor
- Low energy use of 60-80W/m2 across rooms
- Automated operation or manual on/off control
- Teflon insulated heating cable with full earth connection
- Waterproof (IPX7) and can withstand carpet cleaning or accidental spills
- 100% Maintenance free operation
- Complies with EN60335-1:2002, EN60335-2-96:2002 and EN50366:2003 standards (product safety approval by Intertek ETL SEMKO)