Anodising Perforated Aluminium Panels from Universal Anodisers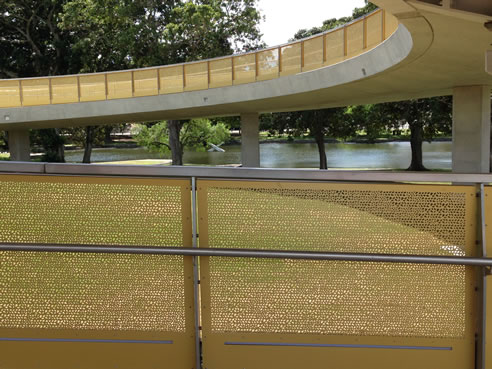 Architect: Hassell
Builder: Lend Lease
Fabricators: Craft Metals & S&L Steel
Anodiser: Universal Anodisers
Moore Park pathway over Anzac Parade
The NSW Government has built a pedestrian and cycle bridge over Anzac Parade to provide safer and more direct access for spectators, residents and cyclists travelling to and from major events in the Moore Park precinct and the city.
In designing the new bridge, which has a six metre wide deck, Roads and Maritime Services has considered a wide range of environmental factors including heritage, visual amenity, urban design, impacts to trees, parkland, traffic and transport factors. The perforated pattern was designed by Hassell Architects, the inspiration came from the dappled light of the fig leaves on Anzac Parade. The golden tones of the morning sun are depicted in the finish.
The bridge is called the Albert (Tibby) Cotter Walkway - named after an Australian fast bowler an ANZAC who played 21 tests between 1904 and 1912, as well as 113 first class matches for NSW, he had a reputation for 'breaking stumps'. Sadly Tibby Cotter was killed in action during World War I.
The unique design of the perforation within the panels provides great interest to the structure. The panels have been anodised by Universal Anodisers in Satin Hardcoat Oriental Gold. The anodised finish provides a visual beauty to the bridge with metallic lustre that will not denigrate over time, it creates a very hard surface that will not peel and provide low downstream maintenance. Anodising is the perfect choice for perforated aluminium due to the consistency of coverage on the aluminium surface and equally within the perforation.
Universal is proud to have been the chosen Anodiser for this project.
Should you be considering perforated aluminium for your next project talk to us as it would be our pleasure to assist with your requirements.