Picture Perforated Panels by Stoddart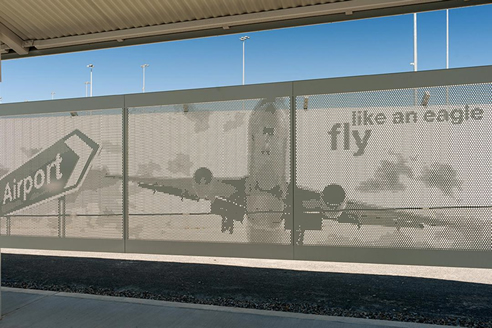 Picture perforated panels can provide decorative, as well as brand exposure in indoor or outdoor public spaces such as walkways, airports, malls, stadiums, metro stations and parks. This unique material sets companies apart from their competition in terms of creativity and the material's durability. What better way to develop a business' brand than to have a visual representation of a company translated into picture perforated panels for the world to see?
Stoddart offers perforated panel designs that can be customised to the clients' specifications. Picture perforated panels can be installed outside the company building to add style and establish brand image. Panels can also be incorporated into interior spaces, providing continuity with the facade.
Picture perforated panels by Stoddart can also enhance the performance of a structure depending on how they're used. A large perforated metal design can add stability and durability to the wall cladding. If clients are opting for customised designs, panels are available for their specific requirements and can be applied not just to walls, but also on ceilings.
A strategic way on how picture perforated panels by Stoddart can be styled is by adding LED lights behind, enabling the light to filter through the holes, providing a modern and stylish emphasis to the design.