Artful Illumination of Main Thoroughfares with WE-EF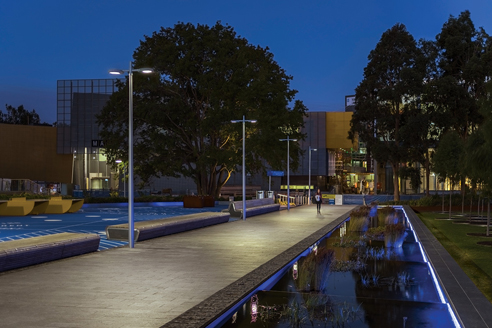 Intuitive design helps Monash to reinvent the university landscape
As the role and function of Monash University has changed in recent decades, its localities have evolved into more interactive and vibrant places. The award-winning design for Monash University's Caulfield campus is at the forefront of this type of design aesthetic, which invites people to study, socialise, recreate and be nourished.
Involved in the masterplan for the Monash University Caulfield campus, lighting design practice Electrolight was able to contribute to the key drivers for illumination of the project. Working alongside landscape architects Taylor Cullity Leathlean (TCL), the team from Electrolight determined that safety and 24/7 activation of the space were primary concerns. Finally, the lighting design needed to promote excellence not only in design, but also sustainability through the use of the latest technologies and techniques.
The Head of Design at Electrolight, Jess Perry explained that "creating a high-quality urban realm with memorable and distinctive landscapes," was a priority.