Baby change tables for commercial bathrooms from RBA Group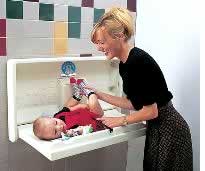 Baby change tables - as all parents of young children know, nappy-changing can be a dirty business. It's even more awkward when you're not at home. RBA Group has a complete range of nappy changing tables to make 'change time' easier and more hygienic.
From the world famous Koala Kare range, designers can choose from vertical or horizontal, recessed or surface mounted, and premium or budget alternatives.
RBA also has stainless steel versions for high-traffic areas and can provide commercial high chairs for food-halls or booster seats for cinemas. Features such as integral bag hooks and liner dispensers, safety straps and comfortable concave changing areas, make specifying baby change tables so much easier on your next commercial project.