Heavy Duty Grated Trench from Mascot Engineering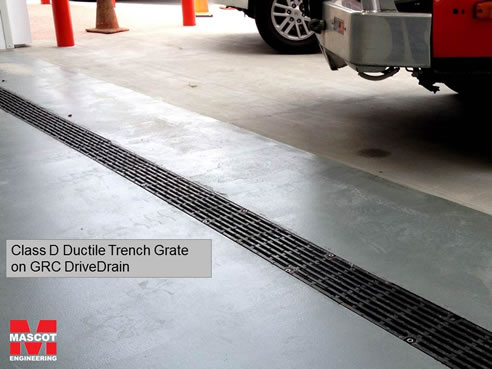 Mascot Engineering has launched a new heavy duty (Class D) ductile iron trench grate and frame for their unique GRC DriveDrain channel system.
The new trench grating is available in all four sizes to suit the Glass Reinforced Concrete DriveDrain (from 100mm to 300mm) and is complete with security bolts. The grating has been designed to meet the Class D loadings in AS3996 and with a narrow gauge longitudinal bar to make if heel and bike safe. This design has made it instantly popular for service stations and other industrial/bulky goods retail outlets where a heavy duty load and pedestrian access is required.
Mascot Engineering's unique Glass Reinforced Concrete (GRC) has an impressive compressive strength of 80MPa and is smooth (unlike some GRC and other materials) to aid water flow. Like traditional steel reinforced concrete, Mascot's DriveDrain wont shatter, it's just lighter and easier to install.
Mascot Engineering has distribution centres in Sydney, Melbourne, Brisbane & Perth and the DriveDrain surface drainage system is stocked in all locations.
Since 1920, Mascot Engineering has been manufacturing products for the building industry... products you can trust from the Australian company that has stood the test of time.
For more information on the DriveDrain drainage channel system, contact Mascot Engineering on 1300 885 295.