Metal Finishes Online Specification Tool from Astor Metal Finishes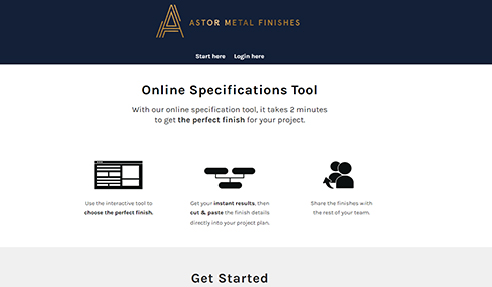 Get the Right Finish Every Time with Astor's New Online Specification Tool
Too often we speak to people who feel roadblocked by an inability to specify the right metal finish for their project - leading to mistakes, miscommunication and a lot of frustration.
It's a common problem, but it shouldn't be - which is why we developed our new Online Specification Tool, that aims to eliminate the issues you face when specifying suitable finishes.
The tool is quick, convenient, easy to use, and will auto-fill your finishes schedule, allowing you to:
Specify the right finish for the right application.
Cut and paste your results into schedules.
Share with your project team.
Use the information to easily communicate with subcontractors.
You'll be able to find a suitable finish for your particular application in a matter of minutes, plan and design your project in detail, and choose from our increased number of finishes to instantly bring your ideas to life.
We're incredibly excited to share this tool with you, and welcome any feedback you have - it was created to meet market demand, and we value your input on how it can be adapted to meet your needs.
Try Astor Metal Finishes' Online Specification Tool now! Discover some of Astor Metal Finishes projects here.
For further inquiries, head on over www.astormetalfinishes.com today.