Award Winning Commercial Lighting Design with WE-EF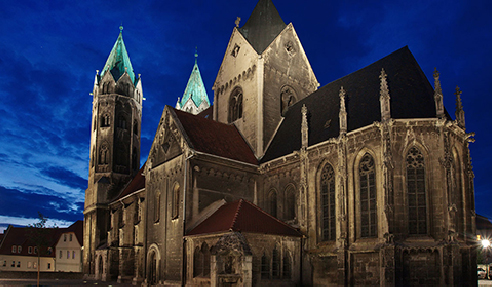 Impressive projects - outstanding lighting
Lighting designers and architects choose WE-EF for their projects because of the high-performance technology, long-lasting quality and the functional, unmistakable design of WE-EF lighting solutions. Numerous renowned design awards bestowed in 2018 acknowledge WE-EF's technical expertise and creative design process. However, projects featuring WE-EF luminaires also won awards on the international competition stage in 2018.
Winners in the darc awards organised by the British magazine, arc, include the OLV cathedral in Antwerp (Susanna Antico Lighting Design Studio), The Cape on Norderney (Oliver Christen Lighting Design), and the Piece Hall in Halifax (BuroHappold Lighting) - projects in which WE-EF is involved with various products. Furthermore, the Piece Hall in Halifax received the "Community & Public Realm Project of the Year" award at the Lighting Design Awards 2018.
The Bloomberg Building in London, designed by Lord Foster, was literally showered with prizes, including several for the lighting design firm Tillotson Design Associates for its excellent lighting concept, "Workplace and Global Project of the Year" at the Lighting Design Awards 2018, together with two Lumen Awards from the USA. Here, WE-EF developed a wide range of special luminaires to illuminate the façade, which have now been incorporated the standard programme.
Last but not least, the German Lighting Design Award 2018 also awarded a prize to a project featuring luminaires from WE-EF; the church square in Freyburg won the "Outdoor Lighting/Public Areas" category. With its twin-tower façade, the late Romanesque basilica church in Unstrut that is visible from afar is the dominant building in the town centre. The lighting concept by SSP-Schmitz Schiminski Partner GbR underlines its presence.