Timber Floor Waterbased Stain Available from Lagler Australia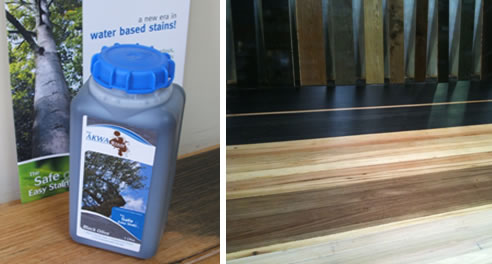 STAINING TIMBER FLOORS THE BEST WAY.
For flooring contractors, staining a timber floor has always been a black art, if you'll pardon the pun. It is probably the fastest growing requirement for floor sanding professionals at present.
Rolling on a stain is certainly less labour intensive for the contractor, but the final appearance can be less satisfactory for the customer, giving the floor a "tinted" look. This may be sufficient for some, but to truly change the appearance of a timber, the direct, wipe-on wipe-off method provides the best result. The biggest area of concern here is working time, and then the question of what coatings can be applied over the top, without the stain "bleeding" into the coating.
A stain which has particularly drawn our attention is the AKWA stain by The Traditional Stain Company. Highly specialised water-based stains for furniture have been coming from The Traditional Stain Company for years. Now they've weaved their magic on timber floors, adapting and modifying their superb furniture stains.
This water-based stain is unique in that it is neither a pigment stain nor a dye (with the exception of certain special colours such as white). When you see the silky smooth result from Traditional Stain Co's AKWA stain you will realise how important it is to make the effort to wipe-on and wipe-off. It truly changes the overall appearance of the timber.
In fact, this method with this product creates one of the smoothest and most consistent tones we've ever seen. Providing you've closed the grain sufficiently, you wouldn't know it's been stained. The Black Japan is a knockout- a very intense colour change while still showing the timber grain.
Did we mention it's water-based? That means with zero VOC, you won't mind being up close and personal with it, to get the best result. However, this stain is designed to go under solvent or oil-based coatings. You'll get between 14-18 square metres per litre coverage. And, it's dry and ready to coat over, in around 4 hours.
Their range of colours is quite extensive, and includes some extremely modern concepts such as black olive and grey elm, to cater for emerging trends.
As an added bonus, Traditional Stain can colour match. If you can provide a sample of the timber you'll be using and a sample of the required colour (a swatch of some sort), for a small fee they'll match whatever they are given, subject to the usual variants.
Remember, part of the staining process is consultation, ensuring that the customer's needs and expectations match the contractor's capabilities.
AKWA is only available from LAGLER AUSTRALIA, where you'll also get the best advice.