Extruded Aluminium Roller Shutters from Blockout Industries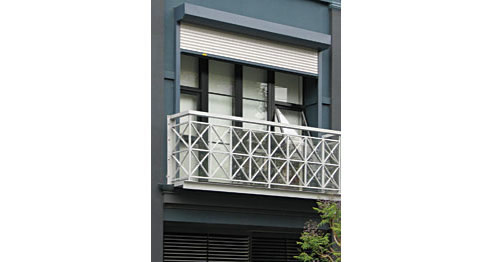 Blockout's Maxiview Maxiblock Roller Shutter is a combination of our Standard Maxiview Roller Shutter enhanced with our exclusive Maxiblock security system. This unique design provides you with insulation and window security while maintaining your views through a perforated profile (over 55,000 perforations per square metre).

Benefits include: Maintaining natural light and views
Protecting windows from glare
Reducing heat gain in summer
Preventing heat loss in winter
Providing greater security. Insulation benefits As an externally fitted shutter, Blockout Maxiview Maxiblock Roller Shutters act as a barrier against the heat, creating an insulating air pocket between the shutter and the window. They cut direct sunlight by 81%, reduce heat gain by up to 70% in summer and heat loss by up to 70% in winter. Security features The 45mm Blockout Maxiview Maxiblock Roller Shutter is manufactured from a single wall extruded aluminium interlocking profile and is approximately three times stronger than the standard Maxiview shutter. It is perfect for securing your property from intruders, strong winds and storms. Security features include: Heavy-duty tracks
Locked in profiles
Secured bottom bar.
Operational features Blockout Maxiview Maxiblock Roller Shutters have a tighter rolling action than conventional shutters, therefore retracting into a smaller pelmet (or headbox). They are easy to operate by either internal manual control or more commonly by an automatic electronic motor.