Gold Anodised Finishes for Vibe Hotel from Universal Anodisers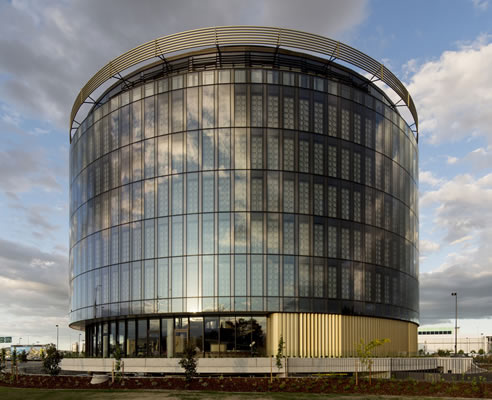 Vibe Hotel Canberra Airport
The new Vibe Hotel is centred on a dramatic full height circular atrium that draws from Griffin's plan for Canberra and reinvents the atrium hotel concept.
Developed by Canberra Airport corporation, Bates Smart were responsible for both the architecture and interiors.
Bates Smart director Philip Vivian said when designing the hotel, they sought to reflect Canberra's DNA, resulting in a hotel crafted specifically for its location and context.
This timeless design combining circular and axial geometrics to create a distinctive geometries allow the building to be read in the round, responding to the site's multiple approach and vantage points.
Universal Anodisers are proud to have been specified for the external anodising of the gold privacy louvres, creating elegant metallic lustre to the podium level of this stunning building. The gold internal louvres create a rich warmth enhancing the textures of the chosen finishes.