Tough Satin Finish Clear Topcoat from Mirotone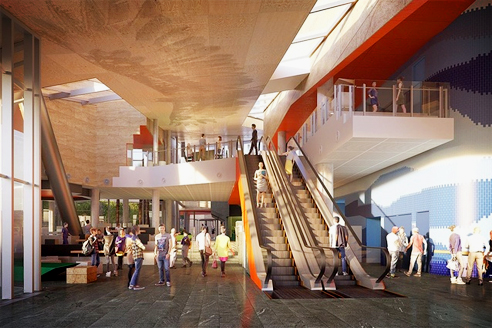 University of Newcastle NeW Space
Built on the corner of Hunter and Auckland Street, the University of Newcastle's NeW Space building showcases Newcastle's 360 degree vista views of the lower Hunter - and at its highest point is 49 metres above ground.
This eight level building, provides lecture theatres, a library, teaching and learning spaces, office and retail areas. This world class, naturally ventilated, 5 Star Green Building features dual directional sun shading system and houses the Business and Law School Faculties.
The urban facility provides a feeling of openness and accessibility to foster learning in a technology rich environment. The Birabahn (Eaglehawk) is a key protective Totem of the Awabakal people. The design located across level one and two through an interpretive pattern on the plywood ceiling was executed by The GDK Group a multi-disciplined manufacturer of acoustic panelling, timber wall and ceiling panels and customised design finishes.