State-of-the-Art Swimming Pool and Spa Lighting from WE-EF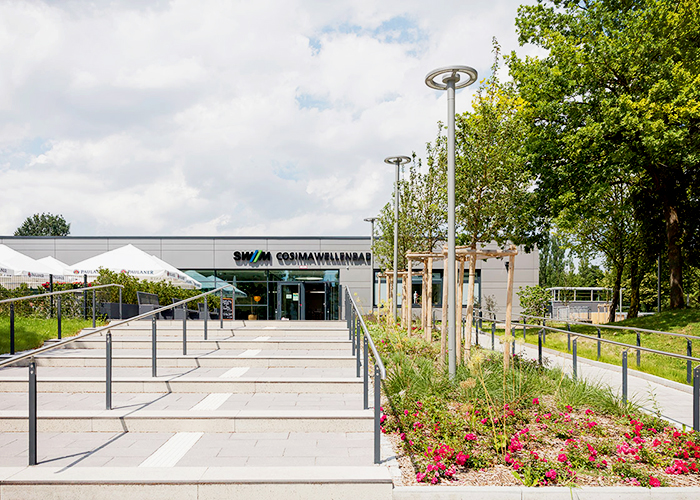 Swimming pool and spa lighting with state-of-the-art technology and design
After 35 years of use, Cosimabad swimming pool in Munich-Bogenhausen has been completely refurbished. Between 2014 and 2017, the roof, façade and the technical installations - including the electrics, heating, ventilation and swimming pool water technology - were modernised. Cosimabad's new energy-efficient technical equipment includes luminaires from WE-EF, which provide good visibility around the building and illuminate some areas of the sauna facilities.
The renovation of Cosimabad took three years and presented a number of challenges, but the hard work ultimately paid off; guests can now enjoy a first-class swimming pool and spa facilities once again. Cosimabad is particularly popular as it is the only wave pool in Munich and boasts the largest children's paddling area of all pools in the Bavarian capital. However, many other attractions also await visitors - from the warm outdoor pool to the bubble grotto, wave bay and sun deck, and the 900m² sauna area.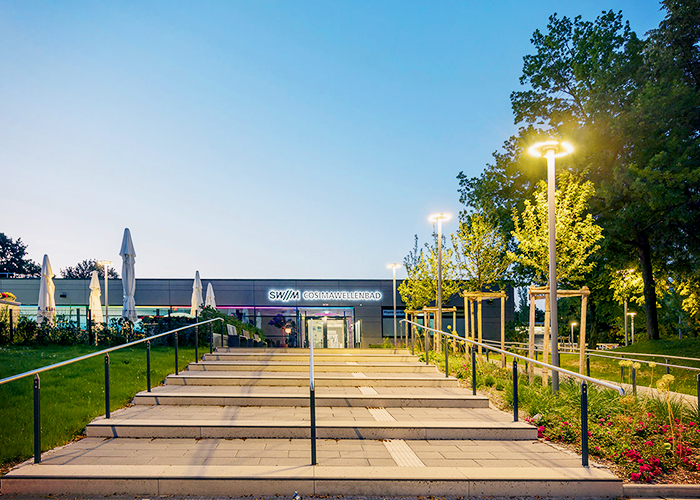 The luminaires and the lighting design were selected in close co-operation with the Munich municipal utilities that operate the swimming pool.
For the outdoor area, WE-EF street and area lighting luminaires provide the perfect solution in terms of both technology and design. For example, CFT540 LED 36 W luminaires illuminate the car park, access paths and the long outside staircase that leads directly to the entrance - past the outdoor seating of the restaurant area. With clear contours and precise lines, the design of the luminaires harmonises perfectly with the modern architecture of Cosimabad. With a uniform distribution on the traffic areas, the lighting ensures that the entrance, with the swimming pool behind it, is well visible from the road.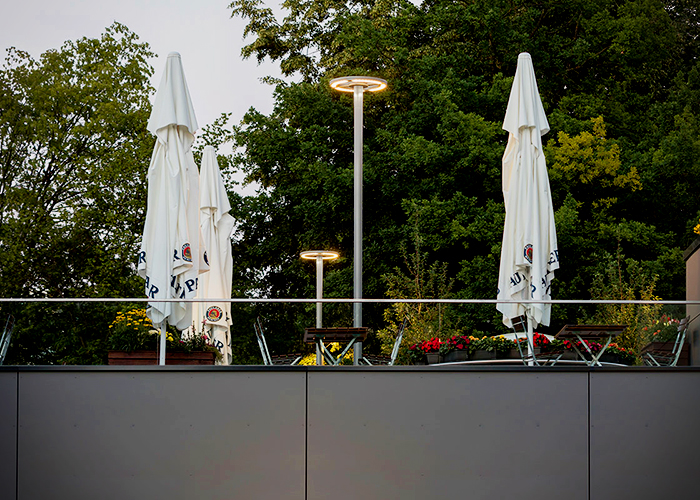 RMC320 LED street and area lighting luminaires are used for the park-like grounds at the back of the building and at the rear exit. In the immediate vicinity of the façade, the poles are fitted with a semi-circular version of the RMC320 LED luminaire. The RMC320 is also used in the area around the outdoor pool, both as a pole and wall luminaire. Pole heights, wattages and distributions are always precisely matched to the location. All exterior luminaires can be dimmed with DALI.
Durability was an important criterion in the choice of the luminaires as they are exposed to extreme conditions, particularly near the chlorinated outer pool, with an increased corrosion risk for all metal parts. WE-EF protects its luminaires with 5CE superior corrosion protection as a standard feature. This includes specially selected materials, conversion coating, powder coating, PCS hardware and process control. For locations subject to extreme corrosive stress, 5CE+Primer is also available - a special 'intercoat' bonding primer is used for outstanding adhesion and colour stability.