MRY200 Bollard Luminaire Series from WE-EF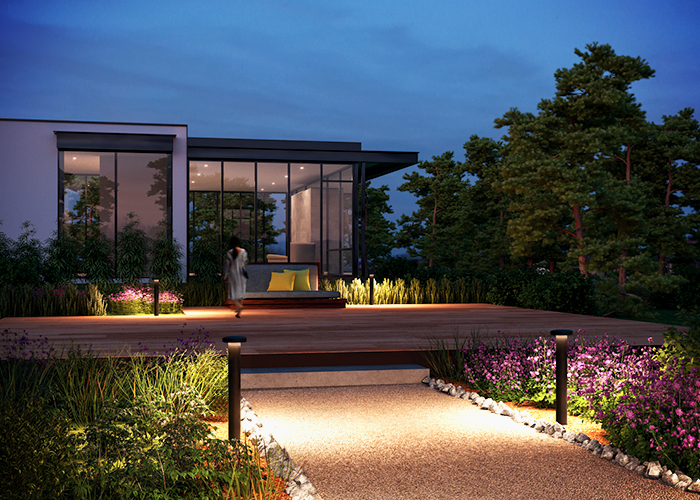 Attractive and effective: The new MRY200 bollard luminaire series from WE-EF
The new MRY200 bollard luminaire series from WE-EF offers a wide range of possible configurations with three different sizes (heights of 600mm, 850mm and 1,000mm with a diameter of 200mm). With connected loads from 11W to 15W, nominal lumen packages from 840lm to 1110lm, protection class IP66/IP67, and impact rating IK10, the series not only features excellent performance and light control, it also meets the "Dark Sky" criteria.
With their CAD-optimised [C70] optics and a cut-off of 70°, the luminaires generate a symmetric, uniform light distribution, even for larger areas. The bollards also come with [S60] 'side-throw' optics for asymmetric light distribution. The new MRY200 luminaires are used on paths in residential complexes and leisure facilities as well as in public parks. Optionally available with a colour temperature of 2700K, 3000K or 4000K, they always provide excellent orientation and safe guidance - and act as a design feature during the day.
Engineered with corrosion-resistant aluminium housings and the proven WE-EF 5CE Superior Corrosion Protection technology, the bollard luminaires permanently withstand even the harshest exterior conditions - for example in the vicinity of seawater. Weathering and ageing-resistant silicone gaskets with CCG® technology (Controlled Compression Gasket), which are insensitive to aggressive atmospheres, are used for sealing. The luminaires feature surge protection (SP10) standard 10/10kV and are supplied pre-wired with a built-in LED driver.
MRY224 bollards has been recently certified as "ADSA Approved" (3000K) and "ADSA Prized" (2700K) by Australasian Dark Sky Alliance.