Operable Wall Systems by Bildspec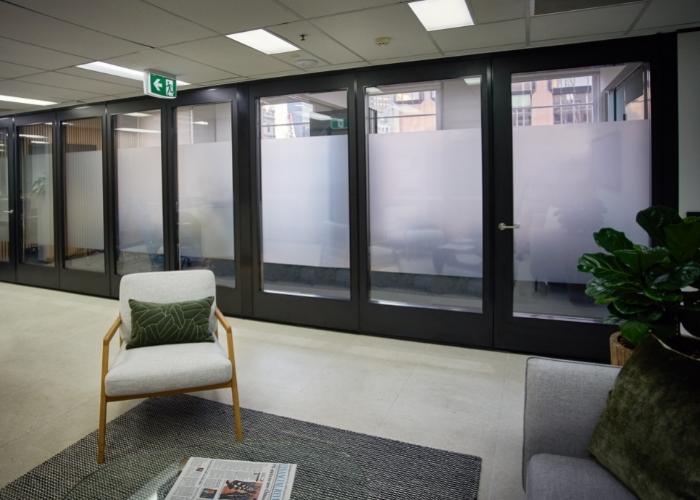 Deutsch Miller Make the Astute Choice in Operable Wall Systems
Deutsch Miller is a specialist corporate and dispute resolution firm built on the partners' top-tier experience and expertise- and one of only two boutique Australian firms to be recommended in the prestigious Legal 500, Asia Pacific.
Their unique combination of technical excellence, first-class service and a practical, commercial approach to legal issues has earned them a reputation as the astute choice for clients and their advisers when they face complex, critical commercial challenges and opportunities.
It is no wonder that Deutsch Miller made an astute choice in choosing an operable wall systems supplier for their elegant new office fit-out at Martin Place, Sydney. Through fit-out specialist Axiom, Deutsch Miller has installed a Bildspec Konnect Double Glazed operable wall between their meeting rooms and their main work area, as well as two Bildspec Series 100 solid operable wall systems between meeting rooms themselves. The meeting room walls are clad in Rim Trilogy fabric and complete with Laminex Glossy Whiteboards.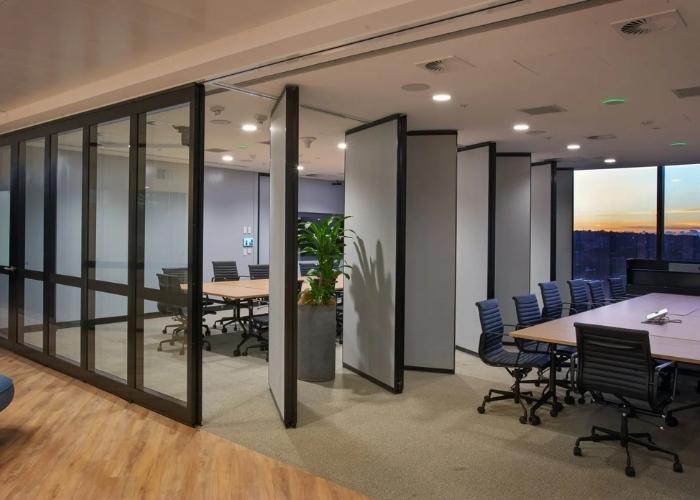 Operable Wall Systems by Bildspec.
For over 50 years, Bildspec's operable wall systems have been used to give clients greater flexibility with their office spaces, through the creation of meeting rooms, board rooms, breakout rooms, and multipurpose break out spaces. These operable walls offer each application varying acoustic properties that are not only fit for purpose but also highly attractive and user friendly.
Bildspec 100 Series Acoustic Walls have been tested for their acoustic performance at CSIRO's acoustic testing facilities in Clayton, Victoria. We can provide walls that are rated 45Rw, 47Rw, 49Rw, and 52Rw, in accordance with AS1191.
Customers can choose between glass, or a combination of multiple solid materials including timber veneers, high-pressure laminates, 2 pack polyurethane, colour back glass, and fabric face finishes. The choice depends on the look, feel and acoustic environment you are trying to create in the office.
For more information on the product installed (including additional information on our acoustic walls in Melbourne, Brisbane, and Sydney) please click here or for any further information please contact our office on 1300 967 672 or email us at sales@bildspec.com.au.