Prevent heat and high energy bills with Blockout Shutters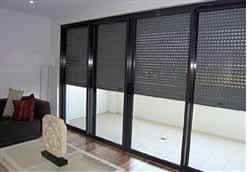 In the midst of summer heat, it becomes obvious how hot it can get in homes and commercial premises.
Blockout shutters can help by reducing heat intake by 90%, reducing energy bills by 30%, and minimizing the use of artificial cooling devices.
Blockout shutters also protect residences from level 1, 2 and 3 category bushfires as defined in AS 3959.
With six models and 14 standard colours to choose from, Blockout shutters can also be anodized or powdercoated to suit the external look of the building and to meet clients' requirements.
Blockout Shutters can be controlled manually or electrically using Nice motors, offering numerous electronic options and ease of operation.