Minimalist LED Bollards from WE-EF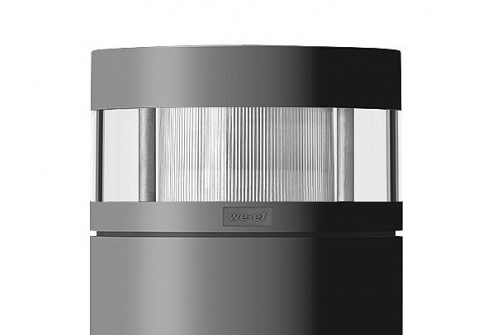 Discreet during the day, effective at night: WE-EF ZFY230 LED-FT bollards
Bollards are not only frequently used to illuminate paths in public parks, green spaces and private residential complexes, but also to create zones in public squares. With adequate horizontal illuminance, they make it easy to see in the twilight hours and at night as well as helping with orientation. During the day, they also function as outdoor design elements.
The new cylindrical ZFY230 LED-FT bollards are minimalist in design and their clear lines help them to blend in harmoniously with a wide range of architectural and city planning contexts with their innovative lighting technology, they ensure glare-free illumination without scattered light. The [C60] indirect optics developed by WE-EF generates a symmetric and uniform light distribution. It also ensures that the luminaire has outstanding glare reduction with maximum efficiency.
The ZFY230 LED-FT bollards have a diameter of 180 mm and are available in two sizes: the small variant measures 600 mm in height while the large variant is 1000 mm. The luminaires are available with connected wattages of 12 W and 17 W in colour temperatures 3000 K and 4000 K. They have integrated surge protection and are prewired with a built-in cable terminal box and fuse. The tried-and-tested 5CE corrosion protection technology from WE-EF guarantees permanently reliable protection for the IP66 luminaires.