Sustainable Outdoor and Urban Lighting from WE-EF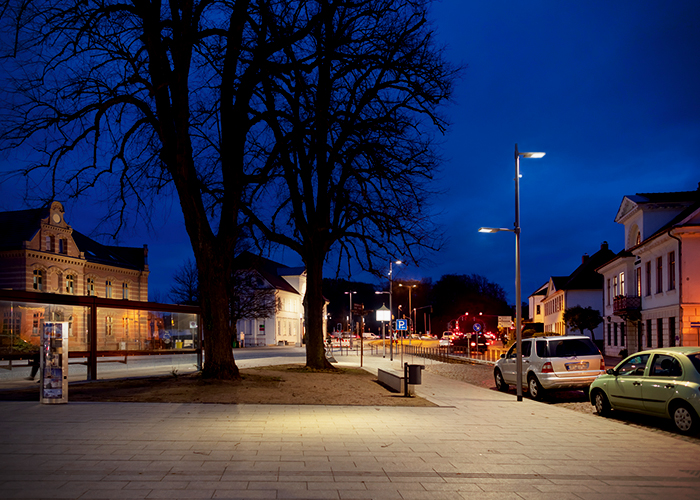 Environmentally conscious thinking and action
Environmental Product Declarations at WE-EF: an important step towards sustainable lighting
How can outdoor and urban lighting become more sustainable? Many factors come into play here; lighting concepts that consider nature and living spaces are just as important as luminaires with a resource-saving design. This is where WE-EF assumes responsibility as the manufacturer, analyses how its products affect the environment over their entire life cycle and publishes the results in the form of standard-compliant environmental product declarations (EPDs).
The Life Cycle Assessment (LCA) is an important element of a comprehensive sustainability strategy.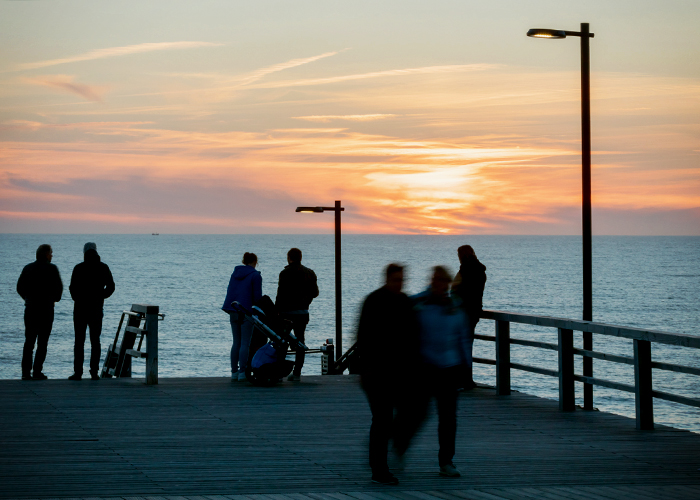 "Sustainability is an element of the corporate mission throughout the Fagerhult Group," says WE-EF Managing Director, Mario Dreismann. "For example, for us this means that our products are not only extremely energy efficient, but also durable - with investment cycles of up to three decades. The materials can be recycled, the luminaires are easy to maintain and modular; they're not throw-away products."
Since 2014 WE-EF has been making this high standard measurable and transparent with the LCA and the EPDs derived from it. Updated EPDs for five luminaire series for streets and other outdoor spaces are now being published for 2021, which take into account the latest development status for these products and are valid for a further five years.
What are EPDs and what is their purpose?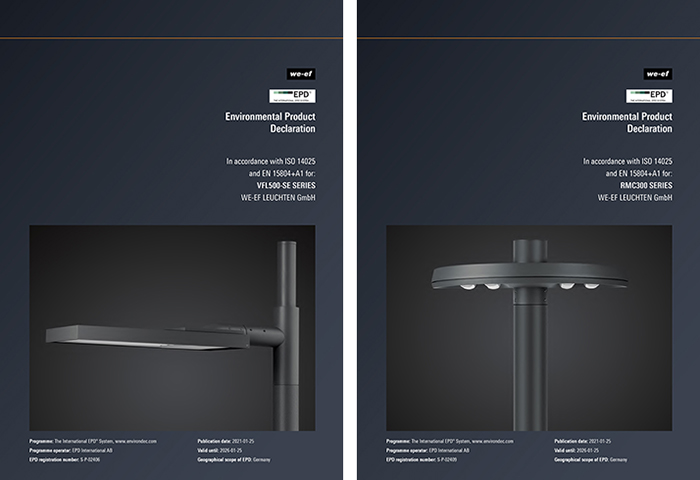 EPDs are product-specific data sheets with verifiable, comparable information about the environmental impact of a product. They document the environmental impact of a product, not only for the time it is used, but over the entire product life cycle - from raw materials extraction to installation, operation and recycling. The EPDs from WE-EF provide detailed documentation on the environmental footprint of the outdoor luminaires over all stages of their life cycle in accordance with the international ISO 14025 and EN 15804 standards.
WE-EF is currently working with independent experts on life-cycle assessment such as Thinkstep and platforms like The International EPD® System. The impact categories examined include aspects such as acidification potential, eutrophication potential, global warming potential, ozone layer depletion potential, summer smog creation potential, depletion of non-energy resources, and depletion of fossil, non-renewable energy sources.
Working with EPDs and the product life-cycle assessments documented in them has advantages for the manufacturer as well as for planners, customers, and users. First, the analysis creates a sound quantitative database on the environmental impacts of the entire value chain of a product. Based on the analysis, "environmental hotspots" can be identified - phases in the product life cycle offering particular potential for greater sustainability. Alternative products, components, or process steps can be compared in terms of their environmental impact, and the standardised form of EPDs enables a direct comparison of products within a manufacturer's range or also with competitors.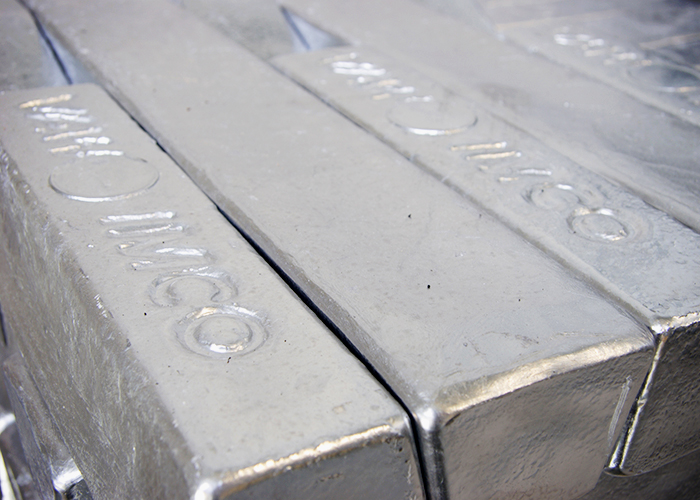 "We expect the measurement and assessment of the energy and environmental impact of products to become mandatory in many countries in just a few years' time," according to WE-EF Sustainability Manager, Jochen Engmann.
The sum of the right decisions
Life Cycle Assessment provides many insights that influence the development of future products from WE-EF and which focus attention on critical components or production processes of the luminaires. As is to be expected with durable electrical equipment, the CO2 footprint, for example, is primarily determined by the energy consumption during operation and therefore also by the energy mix used in each case. This is an important argument for convincing users about the use of renewable energy for lighting.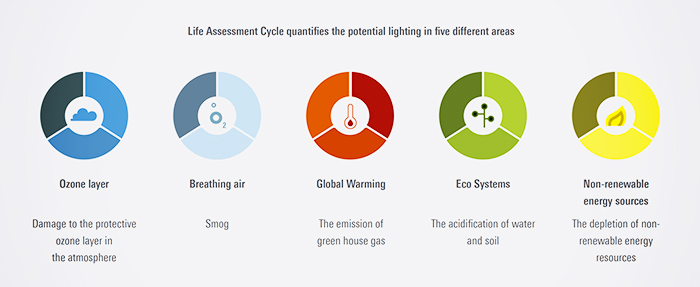 If more and more electricity comes from renewable sources in future and luminaires become increasingly efficient, the production and disposal automatically become more important in the product life cycle. For example, in the manufacturing phase, the LCA showed that energy-intensive surface treatment has a relatively strong impact on the greenhouse effect, while processes in electronics production can be critical for ozone depletion. The weight of a product is generally strongly reflected in its life cycle assessment. Effects such as the resources needed for the installation - for example, copper cables - are also included in the LCA, as is the major positive contribution made by consistent recycling of aluminium housings at the end of the product's service life.
LCAs and EPDs are therefore not only published in response to requirements - for example, in public tenders - but also as extremely helpful tools on the way to more sustainable luminaires and lighting concepts. They enable users to opt for the more sustainable solution in a specific case or, in certain projects, to achieve CO2 compensation between the manufacturer and the end customer. WE-EF, as a manufacturer, can use LCAs to document what has been achieved so far in terms of sustainability as well as to continue to specifically improve the design, construction, and production processes of the luminaires - in the interest of our planet and all its inhabitants.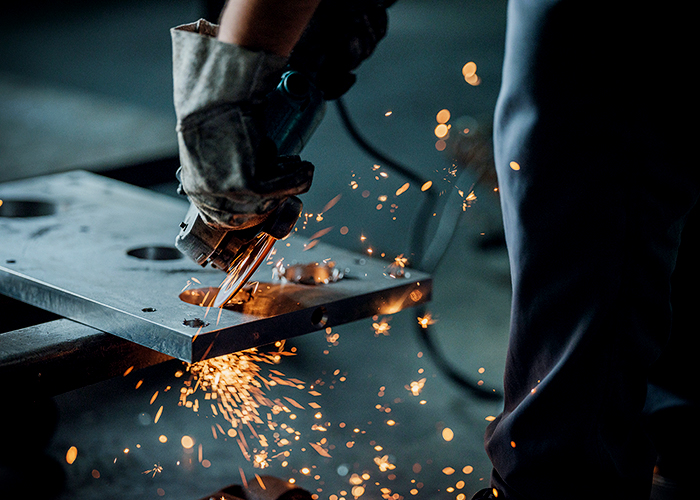 Life Cycle Assessment provides many insights that influence the development of future products from WE-EF and which focus attention on critical components or production processes of the luminaires. Photo: WE-EF.