Green, Mean Super Machine from Lagler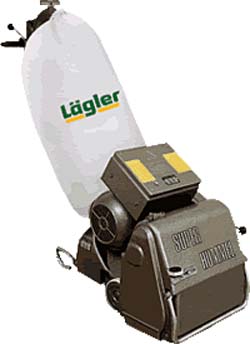 Superman had super powers, Batman used physical prowess and mental superiority to bring his enemies to justice, and Spiderman spun a sticky web to enable his fight with criminals.
Not quite in the league of world famous comic heroes but nonetheless a 'super' machine by name, Lagler's new Superhummel offers the floor sander more power in a wider machine, says Lager Australia's Cameron Luke.
Saying that Lagler in Germany have always made a Superhummel sanding machine in a 12 inch machine, Cameron stated they have not been available in Australia principally due to the use of three phase power to operate them.
"They could only be used on large commercial jobs in Australia where they had access to three phase power, so we've never brought them into Australia because we felt there was not enough demand," he said.
"We've been asking Lagler (in Germany) for some time now to supply the Australian market with a 12 inch belt sander with a single phase motor as we felt there was a need, and we're pleased to say it's arrived!"
Cameron informed the new Superhummel has a 4.2 kilowatt motor, the equivalent to five and half horse power.
"Compare this to the eight inch Hummel, which has a 2.2 kilowatt motor and you can certainly see the difference," he commented. "Obviously a bigger machine needs a bigger motor to do the job properly, hence the name 'Super' Hummel.
"It's fantastic on floors where the timber is really hard or badly cupped as it puts a lot of power down onto the floor.
"We've been testing it against other machines for three or four months now and it cuts back as good as any of them."
He said the Superhummel also has the advantage of other Lagler machines in that it finishes the floor just as efficiently.
"By that I mean it will cut back hard, and is also capable of finishing the floor using the finer grits.
"You don't have to use a powerful machine to cut the floor then change to a lesser powered machine to finish off; you can use the Superhummel for both.
"It's very hard to get a machine that gives you the best of both worlds but the Superhummel can," Cameron was pleased to add.
The new machine weighs around 109kgs and has an 800 x 300mm belt.
"Compared to the eight inch Hummel, which weighs 78kg, it's heavier but it is still significantly lighter than some of the other bigger machines around.
"Some people think you need a very heavy machine to cut back a floor but you don't; it's all about the power of the motor, drum speed and drum pressure."
Cameron said the eight inch Hummel was the first belt sander ever developed and has been recognised for its qualities for a long time now.
"The Superhummel has even more modern technologies to it, such as an adjustable and removable dust intake cover to allow easy access to the dust intake area of the machine for cleaning.
"It has a slightly different wheel design and rod upper and lower ??????. Plus it comes with a free safety belt, which the operating can place around his waist to help guide the machine.
"Plus the machine can be dismantled into three parts in no time at all, for easy transport. It's very competitively priced compared to similar machines here and spare parts are also readily available."
He said Lagler has been importing Hummel sanding machines into Australia since 1989, "and they are probably the most popular belt sander around the country today," Cameron stated.
Cameron invites readers to come and see the Superhummel at the Lagler stand Booth 69&70 at the Australian Timber Flooring Expo at Melbourne's Caulfield Racecourse (August 11-12).