Decorative Aluminium Screens Anodised by Universal Anodisers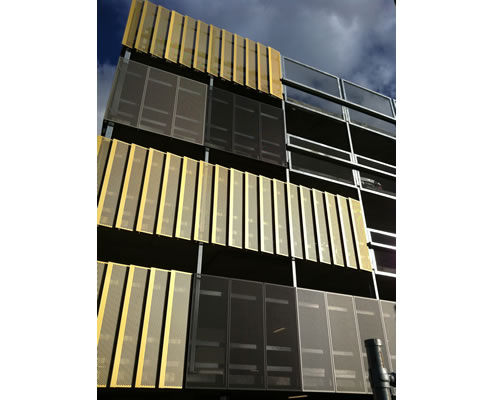 Anodising was chosen as the surface finish for perforated sheet on Revesby Carpark in Universal Hardcoat - Oriental Gold, Charcoal Grey and Silver Grey giving a dramatic effect.
Aluminium perforated sheet used in architectural application is strong, lightweight, non-absorbent and will not rust. Anodising is an electro-chemical process that forms a protective coating of aluminium oxide converted on the surface of the aluminium, this coating is integral to the metal and can not flake or peel.
Anodising provides the metal with longevity and low downstream maintenance, also giving the metal a translucent metallic lustre. Anodised finish is not affected by moisture or UV light, is twice as hard as stainless steel and is more durable in high traffic areas.
Contact us to discuss your anodising requirements - www.universalanodisers.com.au