Corrugated Perforated Aluminium Anodised by Universal Anodisers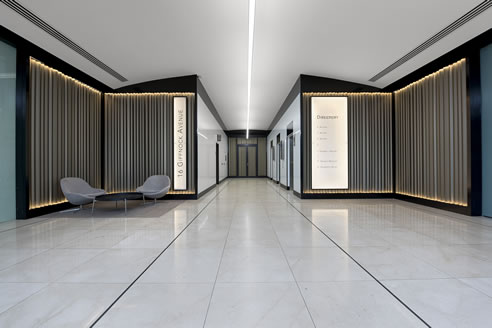 Giffnock Ave - Macquarie Park interior refurb.
Architects: Team 2
Fabricator: Ripple Iron
Anodiser: Universal Anodisers
On chatting with Ross McCready from Team 2 Architects as to their inspiration for the lobby refurb design.
The exising lobby was clad in a rather worn and dated 1980's orange timber, the lobby is split into two areas. The front and back of which were mismatched in design and company logos.
Team 2 wanted to create a sophisticated feeling with a place for informal meetings where people would feel comfortable. The key to this was to tie the space together as a considered matching whole and give the feeling of an enclosed more private 'room' which was apparently quite a challenge in a thoroughfare.
The chosen finish was corrugated, perforated aluminium sheet to allow filtered light into the rooms beyond, providing the enclosing but light effect of a curtain. The anodised finish adds another level to this giving the rich feeling of a sleek piece of jewellery worn around the lobby.