Door Sealing Systems for Healthcare from Raven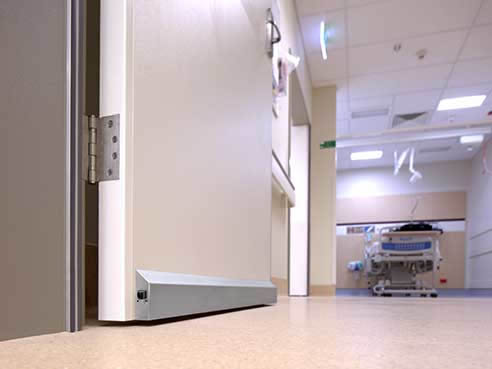 Adelaide Health and Medical Sciences building
Situated alongside the SAHMRI in the heart of the Adelaide's BioMed City, sits the new Adelaide Health and Medical Sciences (AHMS) building. Featuring the latest state-of-the art cutting-edge technology, the AHMS was designed to integrate skills-based student learning with The University of Adelaide and a network of industry experts and health researchers.
Standing 12 floors high, the AHMS contains 4 floors of laboratories, 3 lecture theatres, 24 simulation suites, a dental hospital and student study spaces, eateries and amenities.
In order to meet the various mandated regulations and standards as required of the healthcare industry, Raven was specified due to its trusted reputation, its high quality and the industry's most extensive range of NCC compliant NATA certified and tested sealing systems. Raven is also independently certified to international quality standards ISO9001 ensuring you receive the best products, at the best price, backed by the best service every time.
Raven supplied a range of door bottom seals, perimeter seals and threshold plates to the AHMS building providing integrated door sealing systems, designed to meet a variety of complex sealing requirements. Raven sealing systems were required to perform across multiple levels from the exclusion of smoke, fire and weather through to acoustic attenuation and the containment of energy.