Raven's Range of Black Anodised Products Expanded!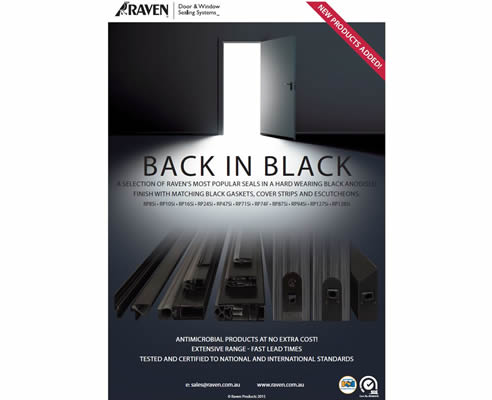 Raven, the leader in door and window sealing systems has expanded the selection of popular seals in a hard wearing black anodised finished.
Trends have seen black door hardware and fittings continue to grow across the building and architecture industry and Raven now have a range to compliment the other components of design.
The range includes now includes several popular door bottom, perimeter and astragal seals in a hard wearing black finish including RP8Si, RP10Si, RP16Si, RP24Si, RP47Si, RP71Si, RP74F, RP87Si, RP94Si, RP127Si and RP128Si.
The extensive range has fast lead times with antimicrobial products available at no extra cost!
With several tested and certified products and systems available, you can rest easy on every project knowing Raven will provide you with the most compliant and on trend solutions available.