Double-glazed Interior Wall System New from Bildspec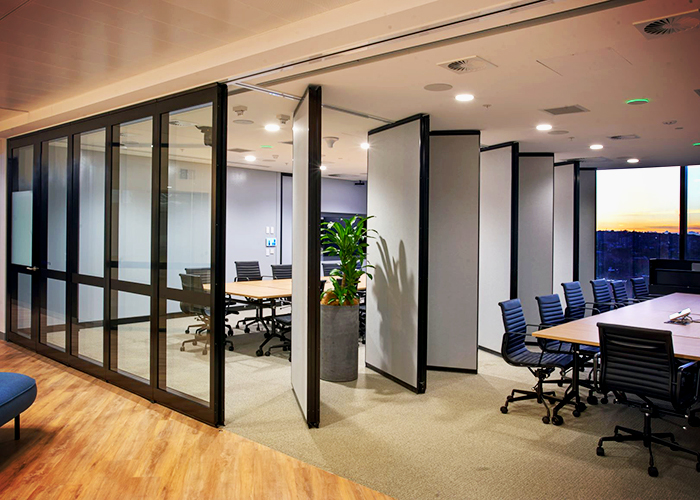 Novo Nordisk Pharmaceuticals Install Bildspec's New Series 100 Double-glazed Wall System
Bildspec Operable Walls recently redesigned our existing Moveable Glass Wall System. This new double-glazed operable glass wall system incorporates thinner stiles for a sleeker, unobtrusive look and effortless operation. This system also complies with AS1288 - Glass-In-Buildings. Our CSIRO certified Rw46-rated double-glazed wall uses a thinner glass profile than most competitors', which makes it the lightest system on the market and ensures it is a great value proposition compared to its predecessor model.
These Series 100 Double-glazed movable acoustic walls combine the elegance of glass, with the strength and reliability of a Bildspec Operable wall. Our double-glazing, combined with an unobtrusive panel frame, allows for maximum visual connectivity between spaces whilst preserving acoustic separation. This inter-space creation of a lighter, interconnected environment with acoustic integrity is the key to the new Series 100 Double Glazed.
For almost 100 years, Novo Nordisk Pharmaceuticals have been translating the unmet medical needs of people living with a serious chronic disease into innovative medicines and delivery systems. Their treatments benefit millions of people living with serious chronic diseases. They constantly discover and develop innovative biological medicines and make them accessible to patients throughout the world.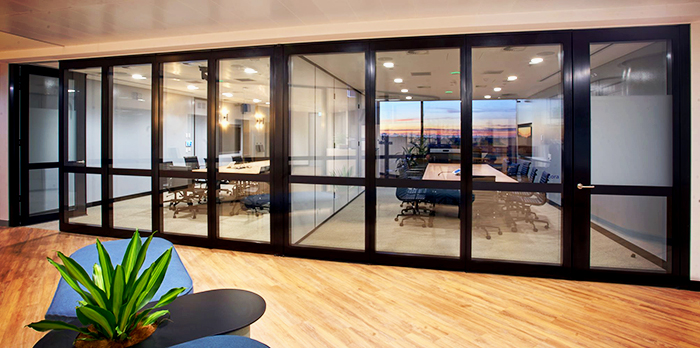 Novo Nordisk recently chose the Series 100 double-glazed acoustic moving wall system for their new office environment. The system was chosen because of its ability to create a spacious, bright, and airy atmosphere without the distraction of unwanted noise. It's new, minimalistic design perfectly complimenting Novo's sleek, modern office fit out and is used to create a seamless connection between meeting rooms and common areas.
Our Series 100 fabric lined operable walls, with removable three-way meeting posts, were installed in addition to our glass acoustic walls to achieve different aesthetic goals. A range of different Rw ratings were employed, from a 45Rw up to a 49Rw, where minimal sound transmissions between larger meeting rooms were required.
For more information on the product installed please click here or for any further information please contact our office.