Operable Walls for Recreation or Leisure Centres from Bildspec
Bildspec Operable Walls at St Clair Recreation and Leisure
St Clair Recreation and Leisure Centre caters for a wide range of sports and community uses. The centre comprises of a full-size basketball/futsal court, a gymnastic hall, two dance studios, and a meeting room. The centre can cater for a range of sports and function bookings.
The centre was looking for a way to be able to divide their large function/meeting area into two smaller areas if needed, thereby allowing them to maximise the use of the area and run simultaneous functions or meetings for different customers. Operable walls can provide different options at different times for the same venue, through effective space separation and controlling sound transmission plus reverberation levels.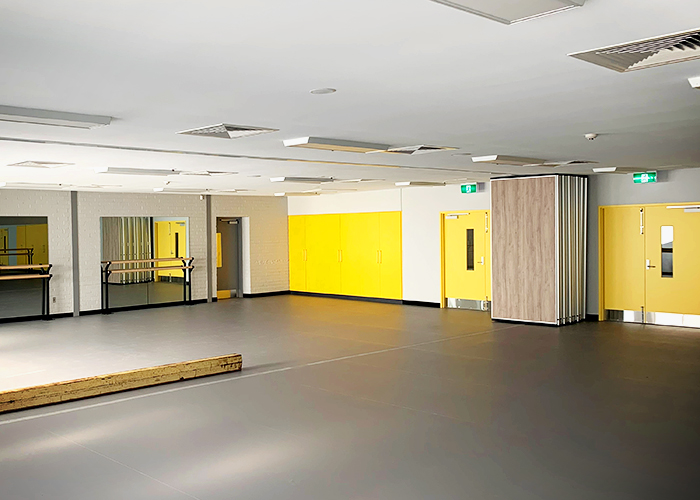 Bildspec Operable Walls have an important part to play in improving the acoustic environment. These folding doors are often used to divide areas in clubs or community spaces needing to maximise their patronage at certain times in the day, as well as provide privacy when needed. The builder, Westbury Constructions decided to use a Bildspec Series 100 Rw50 Centre Stacking Operable Wall to achieve this objective.
The acoustic walls contained fixed top sweep seals and bottom mechanical retracting seals to help achieve the acoustic brief. The panel face chosen was Impact Resistant Timber-look Foil "Modena Oak," a functional material able to withstand heavy use. For more information on the product installed please click here or for any further information please contact our office or email us.