Anodised Aluminium Facade Panels from Universal Anodisers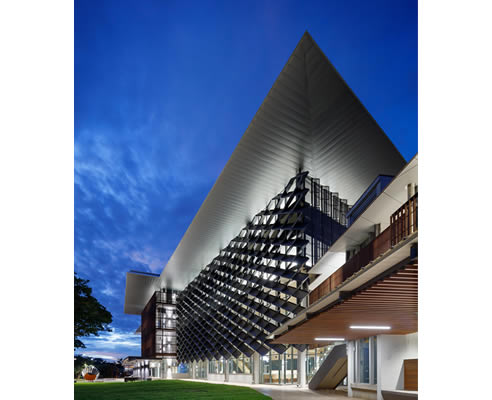 The Science Place - James Cook University Townsville
This stunning, contemporary rhomboid shaped façade designed by Hassell Architects is created with 2 interweaving colours of anodised aluminium panels, connected with custom cruciform extrusion manufactured by Urban Facades.
The specified colours were Universal Anodisers Silver Grey & Slate Grey. Both greys are 'interference colours'. Interference colours are created by pore modification, forming the illusion of colour variation due to the reflection and refraction from the modified pore.
The metallic lustre is enhanced by the pattern within the placement of the panels and by the sun. This beauty is dramatically enhanced at night with lights reflecting off the anodised surface.
Photographer: Andrew Rankin
Architects: Hassell
Builder: Lend Lease
Fabricator: Urban Facades
Anodiser: Universal Anodisers - Anodised colours - Silver Grey & Slate Grey