LED Projector Colour Boost Technology from WE-EF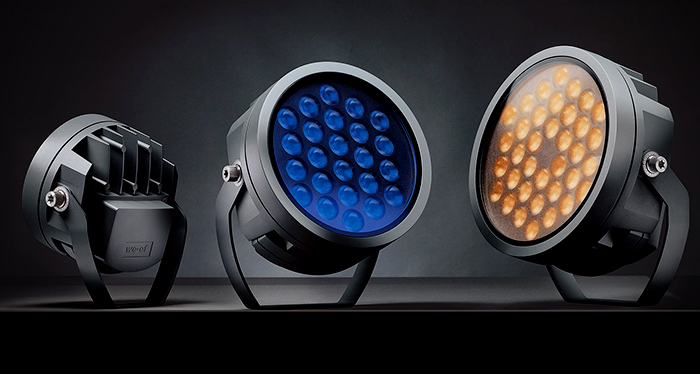 WE-EF colour boost technology: Intelligent colour mixing - maximum luminous flux
WE-EF has numerous products, such as FLC200-CC projectors and ETC100-GB CC inground luminaires, that can be used to produce dynamic coloured lighting. In addition to luminaires with tuneable white technology for infinitely variable control of the colour temperature from warm to cold white, these RGBW and RGBA colour changing luminaires are used to superbly showcase objects outdoors. What also makes them special is WE-EF's newly developed colour boost technology which maximises LED performance by selectively controlling individual colour channels.
With many conventional solutions, the total current of the LED driver is distributed statically over the individual colour channels. With a four-channel colour mixing system, this means that 25% of the power of the control gear is available to each channel. If a colour channel is dimmed or not needed to achieve the mixed colour, the remaining channels can still use only their quarter of the total power. This is where WE-EF colour boost technology comes in. As only three channels are normally used for colour mixing, the 100% total electrical power of the control gear is dynamically distributed among the active colour channels. The result is that each channel has 33% instead of 25% of the power at its disposal.
Depending on the colours used, the luminous efficacy is increased by up to 40%. In order to ensure optimum operating parameters for the LEDs at all times, and to avoid overload, the built-in driver reliably limits the respective rated current per channel. If the maximum rated current per colour in a four-channel operation is set at 100%, dynamic power management can increase this to a maximum of 140%.