Operable Walls for Innovative School Environments by Bildspec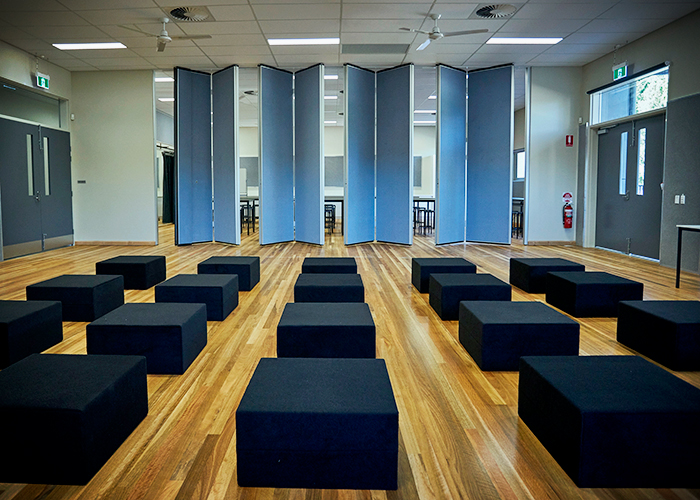 Bildspec Create Innovative Learning Environments at Ku-ring-gai High School
Ku-ring-gai High School have recently completed a major upgrade. This exciting project has delivered innovative learning environments for the next generation of young minds. The project included the refurbishment of 15 learning spaces across the school, including music and drama amphitheatres, the construction of a new multipurpose hall, and an additional two performing arts learning spaces. The school's teachers have been working for three years to develop their pedagogy (way of teaching) and embed this into their practices, and are now ready to provide high-quality learning experiences for their students to prepare them for the future.
Bildspec were chosen as the operable wall supplier for this upgrade due to their reputation for successfully creating innovative learning environments. Innovative learning environments offer flexibility where teachers can provide opportunities for student engagement. The learning spaces;
Are adaptable to accommodate small or large groups.
Include learning centres with flexible spaces that allow students to use technology in a variety of settings.
Provide opportunities to enhance skills in collaboration, communication, critical thinking, problem solving and creativity.
Bildspec have a track record for taking existing buildings and creating attractive, open-plan spaces that are increasingly connected. The results are learning and activity spaces that flow one into the next, doing away with traditional rigid, isolated classrooms and halls.
Bildspec supplied easy-to-use, DDA-compliant operable walls with the ability to divide class room learning spaces at will. These walls contain large format windows allowing maximum light transfer, creating an open, airy feeling in class rooms which is highly conducive to learning. The high acoustic ratings of these walls facilitate open learning spaces where children can learn in a quiet yet robust physical learning environment.
Larger format 3.8m high operable walls were installed in the multi-purpose hall, enabling easy and flexible separation of spaces into open-plan, special purpose learning environments, or retaining the hall's core state-of-the-art assembly, social and performing arts functions.
For more information on the product installed please click here or for any further information please contact our office by phone or email.