Wood Fireplaces for Large Homes from Cheminees Chazelles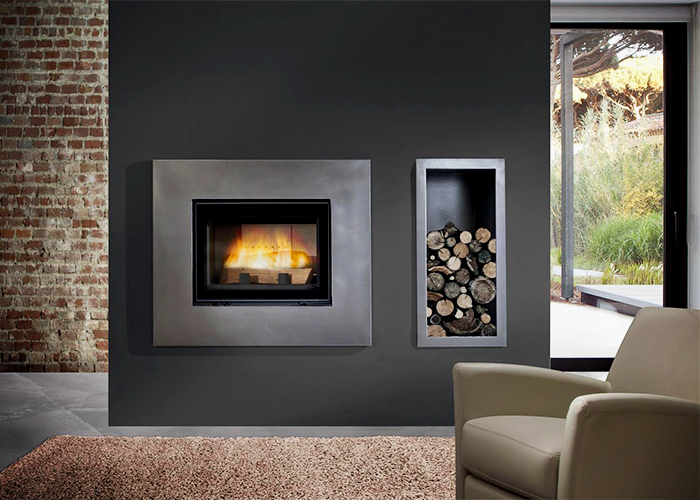 If you're the proud owner of a large home, or a home which features open-plan living, and require an efficient, natural heating option, then specify a Radiant fireplace from Cheminees Chazelles. These absolutely beautiful, heavy-duty cast iron fireplaces are European designed and feature a durable 820°C ceramic glass - among their many impressive benefits. They are further backed by Cheminees Chazelles advanced manufacturing and a comprehensive 10 year warranty.
The Radiant collection of wood fireplaces from Cheminees Chazelles boasts seven unique but all equally stunning options, including;
C800RVE Wood Burning Fireplace - With clean, uninterrupted lines and ideal for warming large modern homes.
C800R Wood Burning Fireplace - Popular with architects and homeowners alike, as this fireplace offers a unique aesthetic.
C800L Wood Burning Fireplace - For a fireplace with a simple, straight-forward design without compromise on quality.
C700R Wood Burning Fireplace - Featuring an innovative dual opening door system that can disappear from view, like an open fireplace.
C700L Wood Burning Fireplace - The base-model of the collection, and it's smallest, for the budget conscious but with the same safety and heating efficiency as all others.
CDF800L Double Sided Fireplace - As per its namesake, an innovative dual-view fireplace and an excellent room divider.
CDF800R Double Sided Fireplace - Alike Cheminees Chazelles' CDF800L, and also ideal for dividing large areas.
For more information regarding the Radiant collection of wood burning fireplaces from Cheminees Chazelles, visit www.chazellesfireplaces.com.au today.