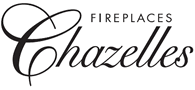 Company Profile
Chazelles Fireplaces, also known as Chazelles Cheminee, have been designing and manufacturing wood and gas fireplaces for over 50 years. Distributed in more than 38 countries, we are Europe's number one choice for high tech fireplaces for residential and commercial applications. In Australia, we have been operating for 15 years and have built up a network of distributors and showrooms in every state.

Our extensive history of research, design and development of wood and gas fireplaces has resulted in key product differential qualities that position us ahead of our competitors in areas such as:
• Advanced engineered technology
• Extensive product range
• Quality design and build
• Expertise and experience
• Limited 10-year warranty.

Additionally, unique product features such as the Chazelles Dual Opening Door System has proven popular with architects, interior designers, and homeowners. This system allows the fireplace to work as an open fire for ambience and lifestyle comfort or as a closed fireplace for increased heat efficiency and household energy saving.

Cheminees Chazelles Australia
02 9550 6290
396 Princes Highway, St.Peters, NSW, 2044
* If you would like to update the text on your profile page, please contact Spec-Net.