Window film solution by Saint-Gobain Speciality Films Australia for No. 1 Collins St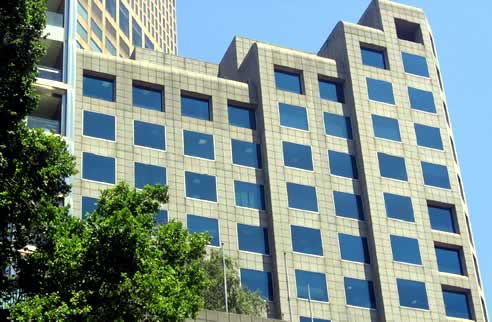 No 1 Collins St was completed in 1984 and is a 17 storey commercial building in Melbourne's CBD. Its construction is cast concrete column and beam with pre cast concrete cladding. Glazing is 12mm tinted glass and the largest pane size is 1.29m x 2.16m. Total glass area 1320sqm.
The base building (ground to level 15) air conditioning system design incorporated two reciprocating chillers capable of providing 100% redundancy.
Mechanical services to level 16 and 17 are metered separately and supplied with conditioned air from a single direct expansion air cooled condensing unit (no redundancy).
The Problem
Increasing building usage and poor air distribution strategy has seen an increase in occupant discomfort and energy use for cooling. In 1994, an energy consultant was commissioned by the building owner to report on the problems. Their main findings were:
Perimeter heat loads caused oversupply of cold air to perimeter offices (senior executives) and costly reheating elsewhere.
Occupants unwilling to deploy vertical blinds because of obstruction of view.
Internal heating loads have increased considerably since building construction. Original design parameter was 10 watts per sqm and may go higher.
Recommendation was to install either solar film or "Verosol" style blinds. The cost of blinds would be approximately twice the cost of film. By early 2006 very little had changed with the A/C system working at full capacity from late spring to early autumn.
The Solution
In mid 2006, one of the Saint-Gobain Specialty Films (BSF) leading dealers "The Tint Shop" installed Solargard Silver/Grey 20 solar film. The installation was carried out after a computer analysis by BSF was conducted to check that "centre of glass" and "edge of glass" temperatures after film installation would be within limits.
The Results
The facility manager for No.1 Collins St. Mr Marty Byrne, has compiled overall electricity costs for the 10 months leading up to film installation (Sept 05 to June 06) and for the same 10 month period a year later (Sept 06 to June 07). These figures were compiled for floors 1 to 15 and floors 16 & 17. During this measurement period, the only feature which changed on floors 1 to 15 was the installation of film. Floors 16 & 17 had film installed as well as an economy cycle on the A/C system and controls upgrade.
Based on the measured energy cost savings projected for a full year for floors 1 to 15 and the proportion of film induced savings for floors 16 & 17 estimated from that achieved for floors 1 to 15, the simple payback for this film installation is slightly under 4 years.
Other Benefits
After film installation, Mr Byrne compiled a report to the buildings owners. Apart from the cost and energy savings, other benefits were identified:
As a result of film installation, the operation of one chiller is now sufficient for most of the year. The two chillers are scheduled for replacement in the next four or five years and because of the reduced load, this can now be done in an orderly fashion.
Most "A" grade commercial buildings no longer rely on blinds to reduce solar load because of their obstruction of views. Existing and prospective tenants rank enjoying views very highly. Since the installation of SolarGard film, blinds rarely need to be drawn. This has created a positive perception about the buildings' amenity.
Perimeter offices are now more usable because of a reduced and more even heat distribution.