Pedestal Paving System from Pasco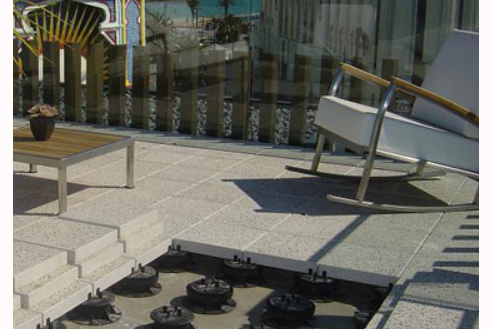 A new and exciting product has been introduced by Pasco Construction Solutions that will appeal to architects and builders when it comes to the design and construction of raised floors.
The award-winning Buzon Pedestal can be used with pavers, timber decking and steel grating to create raised floors on balconies, terraces, green roofs, temporary floors and water features. Capable of accommodating heights from 17mm-850mm, it can conceal services and offer easy access for maintenance of waterproof membranes.
The Buzon pedestal incorporates a patented slope-correcting device, which compensates for a substrate fall of 0-5 percent, to provide a perfectly level floor finish. The interchangeable spacer tabs allow for 2mm, 3mm, 4.5mm, 6mm and 10mm gaps between pavers, providing positive drainage and making uneven paving lines a thing of the past.
Designed, manufactured and tested in Belgium, the Buzon pedestal is capable of supporting 1,000kg. Used on projects all over the world, the applications of the Buzon pedestal are endless.