Interference Colour Anodised Aluminium from Universal Anodisers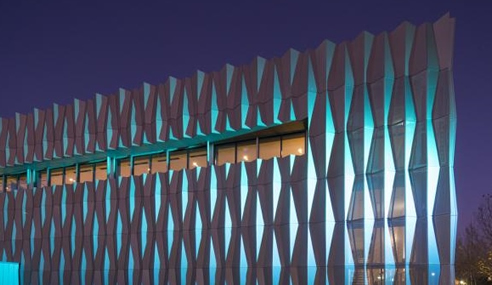 GEELONG GRAMMAR - School for Performing Arts
& Creative Education S.P.A.C.E.
Architects: Peter Elliott Architecture
Builder: ISIS
Fabricator: Denga Property Services
Anodiser: Universal Anodisers
This fabulous structure is the new home for the performing arts, music, drama, assemblies and events celebrating the cultural life of the school. The 3,200m2 building is located in the heart of the campus.
This very innovative façade designed by Peter Elliott Architecture displays both embosed and perforated aluminium panels to the external walls of the building. The perforated panels were used to allow filtered light to stairwells.
The Architect specified 'Gum Tip' and 'Silver Grey' from Universal Anodisers's 'interference colour' range.
Interference colour is created by pore modification. Unlike the two step process the colour becomes both reflective and refractive providing the illusion of colour variation, this is accentuated and enhanced by the angular placement of the façade panels, giving the façade a life of it's own.