Anodising for Aluminium Façade Fins from Universal Anodisers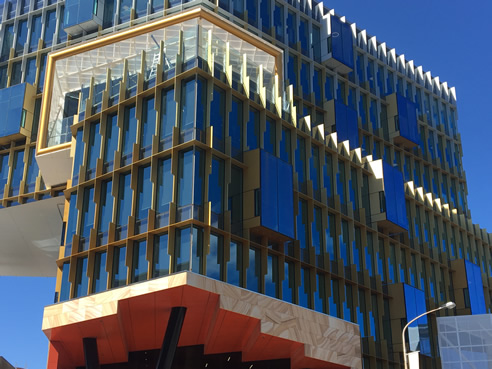 University of Newcastle NeW Space
NeW Space is a landmark education precinct in the heart of Newcastle's CBD. This fabulously contemporary building designed by Lyons Architecture Melbourne in conjunction with EJE Architecture Newcastle, created a community campus through not only learning spaces but social spaces with open café located right on Hunter Street.
NeW Space's smart design has been awarded 5 green stars. With a focus on sustainability and minimising energy consumption, features of the building include external sun shading through the use of gold anodised panels and high performance double glazing.
Universal Anodisers is proud to have been the selected Anodiser for the aluminium fins on the building façade. The anodised colours are UA's Satin Doeskin and Satin Oriental Gold. Anodising will provide longevity due to anodising being integral to the aluminium the beauty and lustre of this finish will remain as spectacular over overtime.